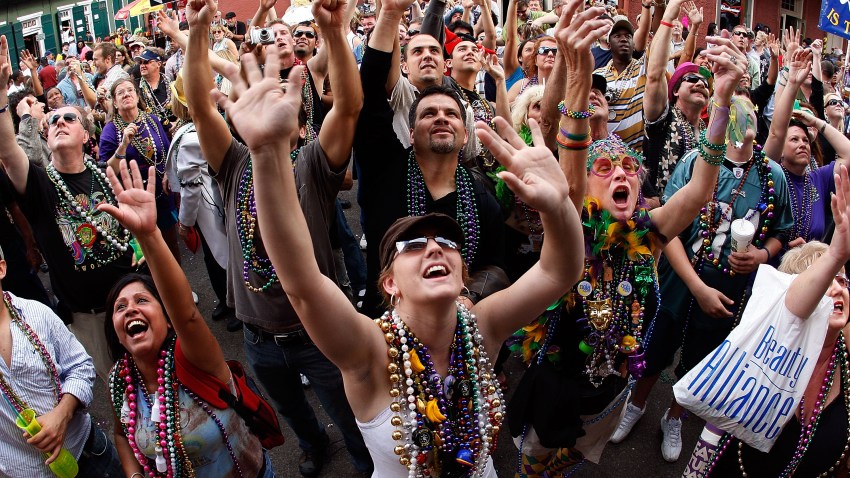 We've already told the gumbo-craving foodie crowd where to spend Fat Tuesday, Feb. 24. Now it's time to give you Mardi Gras beads-loving boozehounds a tip or two. Here's a guide to the best, flashiest and hottest Fat Tuesday bashes in town.
Just like the party crowd at Mardi Gras, the scenesters who flock to Fulton Market lounge Lumen are up for anything (although probably better dressed). The hotspot's typical Tuesday Industry Night is getting a Cajun twist this week. Resident DJ Just Joey will spin from Lumen's newly revamped DJ booth for the Fat Tuesday soiree, while guest performers The House Moguls (featuring Billy the Kid and GusEGruv) will make a special appearance. The bacchanal will also feature $5 Jameson and Corzo shots. 9PM-2AM, RSVP at lumentuesdays.com.
A Mardi Gras Masquerade Ball will transform Lakeview's Kit Kat Lounge & Supper Club, a place that knows a thing or two about getting all dolled up, into a Big Easy barroom. From 5:30PM-2AM on Tuesday, Feb. 24, Kit Kat will feature half-price martinis (from a list of more than 70), Cruzan Rum cocktails for $5.50 and New Orleans-style menu specials like spicy gumbo with crawfish, okra and saffron rice ($6) and jambalaya with chicken, ham, andouille sausage, shrimp, squash and peppers over Creole dirty rice ($18). No shortage of masks, beads, giveaways from Cruzan Rum and Mardi Gras decor will put revelers in the party spirit, and "Kit Kat Diva" Traci Ross will perform throughout the evening (starting at 7:30PM).
NOLA-inspired cocktails and dishes are the focus of a laid-back, neighborhood Mardi Gras celebration from 4:30-10PM at Dunlays on Clark in Lincoln Park. Drink specials include a potent hurricane ($5), a blend of light and dark rums, pineapple juice, orange juice and grenadine; and "The Big Easy" shots featuring gin, rum, vodka and melon liqueur ($3). Tuesdays at Dunlays also mean "20 for $20," a promotion offering 20 different bottles of wine for $20 each. Chef Andrew Easterday will cook up Mardi Gras menu items, such as jambalaya, gumbo and red beans and rice, each $10.
Copyright FREEL - NBC Local Media