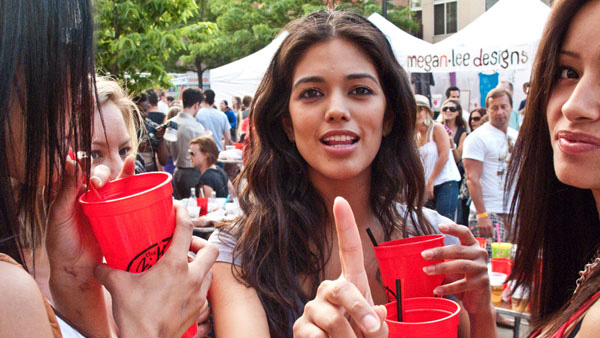 TASTE THIS: Grab some good grub at Taste of Lincoln Saturday and Sunday. The 27th annual event features more than 40 musical acts on five stages, a kids' carnival, food vendors and the Lill Street Art Fair. Musical highlights include Soul Asylum Sunday at 8:30 p.m. and soul/R&B legend Otis Clay Saturday night. Noon to 10 p.m., N. Lincoln Avenue between Fullerton & Wrightwood, $7 suggested donation before 4 p.m., $10 after

AFTER SILVER: The Silver Room's eighth-annual Sound System Block Party will be awesome enough, but we just found out that there's an after-party at Double Door. If you're down with underground house and deep soul, you need to be here for live music from Peven Everett, plus deejays Danny Krivit and Ron Trent spinning. 10pm-3am. $15-$25.

NEW FOOD: Some great dishes you'll find this weekend, according to Chicago mag, are from Bill Kim of Urban Belly fame. He's testing out his forthcoming resto, Country Belly, with a "pop-up restaurant" at this weekend's Milwaukee Avenue Arts Festival in Logan Square. Get ready for lettuce wraps with quinoa, lemongrass chicken and hoisin barbecue sauce; watermelon with spearmint-and-citrus salt; and Asian elotes with curry mayo. Prices range $2-$5.

GOT SOUL: Whether you have a penchant for old soul, or just up for one of the best monthly parties in the city, we suggest you swing over to the Empty Bottle Friday for the Windy City Soul Club bash. The selectas will provide plenty of new grooves to keep it fresh and keep you on your feet. George Rodriguez of LA's Angel City Soul Club will be in the house. Get there early as the lines tend to be long at this one. 10 p.m., 1035 N. Western Ave, $5

PROM NIGHT: Timothy O'Toole's Streeterville location celebrates its 18th birthday with a high school-inspired bash. The "Senior Prom" invites customers to dig out the fluffy dresses and ruffled shirts while a DJ spins prom tunes and a photog takes prom photos. Yes, a King and Queen will be crowned, and best believe the $3 punch bowl drinks will be spiked, along with the 92-cent Miller Lite Drafts. 11 a.m. - 3 a.m., 622 N. Fairbanks Ct., NO COVER

Audarshia Townsend is the creator of the local food blog 312DiningDiva.com. She also provides content for Dining Chicago and Playboy.com.