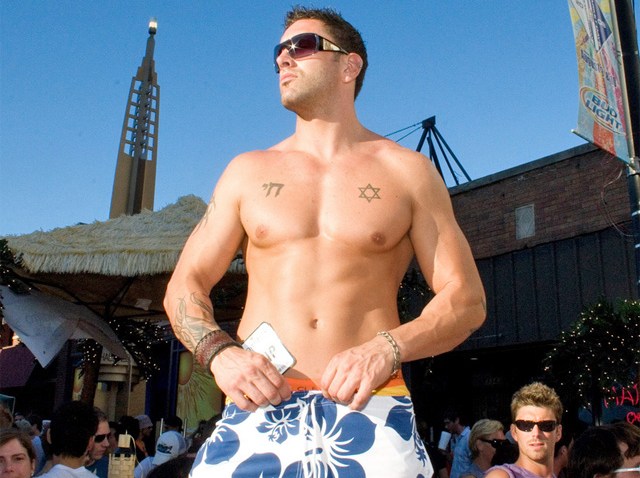 Free your mind and let your body lead you to the annual Northalsted Market Days, going down Saturday and Sunday in Boystown (Halsted, between Addison and Belmont).
It's considered the largest street festival in the Midwest, so it's a little shocking that they've never offered VIP access until this year. And oh what a year to do it!
The all-star, girl-power retro weekend includes performances by En Vogue (9pm Saturday), CeCe Peniston (3:30pm Sunday), Berlin (6:30pm Sunday) and Jody Watley (8:30pm Sunday).
We're excited about them all, but especially En Vogue, who set the standard for the contemporary girl group way before the likes of Destiny's Child, The Spice Girls and Pussycat Dolls with chart-topping hits Free Your Mind, Hold On and the super-steamy Giving Him Something He Can Feel. They're celebrating 20 years as the fabulous foursome and still look good!
Those with VIP access at the Horseshoe Casino stage get unobstructed views of the stage. Prices are $30 (access to back of house and one beverage) and $50 (front of house and two beverages). For those steep prices, one or two drinks is jankity as hell! Get tickets here or try your luck at the gate.
Of course, that's not all that's happening this weekend:
THURSDAY
It's National Cheesecake Day, and of course the iconic Eli's is in on the action. They're giving away slices (one per person, while supplies last) 7am-2pm at Wright Farmer's Market, in the restaurant's parking lot. If you miss out there, you'll still get freebies at the cheesecake sample bar inside Eli's Cafe.
Tonight (and every last Thursday of the month) Goose Island Clybourn exec chef John Manion serves an all-you-can-eat Slagel Family Farm pig roast dinner for $17. Includes sides like red-skin potato salad or sweet potato fries with curry catsup. Starts at 6:30pm—until the whole pig is gone.
If you've never checked out Pilsen sensation Mundial Cocina, tonight's the last night to dig into the $10 tasting plate that comes with three luscious Latin bites and a delicious glass of sangria.
WTF is Megan?! Whoever she is, she's looking for a millionaire, and Manor somehow got roped into hosting the kickoff party for her show premiering on VH-1 Sunday. Superstar NYC DJ Kiss spins; get there early for comped Snow Queen cocktails (10-11pm). 10pm-2am. Cover varies.
Dope OM Records house music deejay Andy Caldwell is on the sked at Spy Bar, which could be quite a blast if you can get over the fact you're in a hardcore nightclub. 10pm-4am. $20.
FRIDAY
Top Chef New York star Fabio Viviani makes an appearance at Wildfire.
Ethnic funk, roots and folk band Funkdesi performs at Wild Hare. 9pm-until. $10.
More island grooves await you at Ja' Grill, one of the very few Jamaican eateries on the Near North Side. Every last Friday of the month, they're serving Caribbean beats along with exotic eats. Deejay Boombostic spins reggae, dancehall, ska, soca. 7pm-2am. No cover.
Lucky you. You get two chances to check out Dee Alexander -- one of Chicago's top crooners -- at the Green Mill this weekend. If you've never seen her live, you're definitely missing out. 9pm Friday; 8pm Saturday. $12.
SATURDAY
Though it's been open for a week, tonight's the official grand opening over at Red Canary in River West. They're expecting a big crowd (especially with all the media coverage it's been getting!), so arrive early to get prime placement in the lounge or dining area. Drink specials include $5 Stoli drinks and $5 Patron shots.
SUNDAY
Branch 27's finally launched brunch service, and we're hoping it's as good as it sounds. Mmmmmm for the pork belly hash skillet, half-pound burger with aged Cheddar, and a BLT stacked with thick-cut bacon and topped with chipotle aioli and fried eggs. Our drinks of choice will definitely be Ginger Lemonade (with Stoli Ohranj), the Raspberry Mint Julep, and a cucumber melon cocktail with Hendrick's gin. Brunch is served 11am-3pm Saturday and Sunday.
Oh my goodness. Kick The Keg Sundays starts today at Faith & Whiskey. If you think that sounds like trouble, you're probably right. For a minimum of four people per table, and $20 a head, you'll get all-you-can-drink tableside keg service. And that is four hours of drinking -- if you're counting.
MONDAY
And Bluebird showcases Lagunitas Brewery for a special tasting featuring mainstays like IPA, Czech-Style Pils, Maximus and the Censored Ale. They'll also treat guests to Lagunitas' limited releases Correction Ale, Lucky 13, Hop Stoopid, the Little Sumpin' Sumpin' Ale and the just released Imperial Red. Flatbreads and snacks also served. 7:30-9:30pm. $25; reservations recommended.
Audarshia Townsend is the creator of the local food blog 312DiningDiva.com. She also provides content for Dining Chicago, Chicago Tribune Sunday Magazine, Playboy.com and Concierge Preferred.