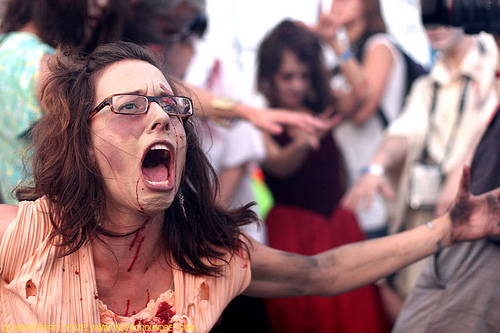 Stephanie Izard's first-ever Wandering Goat event sold out in less than 10 minutes after it went on sale Tuesday.

Whether it's because she's the fourth-season winner for Top Chef, or the fact that it was billed as an "underground" backyard BBQ with beer could've been part of the appeal, but who knows. The darn thing sold out.

If you're still scratching your head 'cause you're one of the unlucky ones who attempted to get reservations at the 11th minute, 312DD's got you covered with another BBQ-related bash:

Tonight's event at 404 Wine Bar may not boast a bonified celebrity chef, but you'll at least get to drink plenty of wine. Kristin Savino of Chicago-based Vino di Savino will be on hand to show you how to pair big red wines with barbecue. You'll get six varieties with grilled meats and veggies. 7-8:30pm. $50.

Now, you know there's so much more happening this weekend:

THURSDAY

Who says you cannot catch a deal on the weekend?! Laid-back neighborhood nook May Street Market offers a delectable, $35 prix-fixe menu Thursday-Saturday. Entrees include super savory meats like the tamarind braised beef short rib; a dessert choice is the flight of cupcakes (chocolate five spices with peanut butter icing; lavender vanilla with Earl Grey icing; carrot with orange ginger icing).

Speaking of desserts, our fave local donut hookup, Glazed, whips up Brandied Cherry Over Chocolate Donuts this weekend. As always, you can pick those up at Swim Cafe, Green Grocer or Bite Cafe for $3 each.

Settle on Bistro 110's newly opened terrasse, or outdoor terrace, for the Tour de France wine tasting series. Guests will travel to the Loire Valley region for a tasting of the area's vino paired with light appetizers like poached salmon, Valencay-style chicken and chilled cucumber soup. Reservations recommended. 6-8pm. $25.

The Violet Hour serves up its twist on an American favorite with a quartet of mini Wagyu beef hot dogs. You get two Chicago style (with pickle, onion, yellow mustard and tomato) and two with seasonal ingredients (right now they're doing grilled peaches and spiced pecans).

FRIDAY

Chef Troy Graves of Eve also puts a unique spin on a signature summer bite. His African Burger is eight oz. of ground lamb, crusted with an Egyptian spice blend called "dukkah," ground hazelnuts, coriander, sesame seeds, cumin and black pepper. The burger comes on a Red Hen bun with unique toppings of harissa aioli, feta cheese, dried apricots and avocados.

Leave it to Kit Kat Lounge and Supper Club to go overboard with its Christmas in July celebration. Through Sunday, they're pimping out the Lakeview eatery in outlandish holiday decor, with the "divas" performing classic Christmas hits, a $30 special menu, kitschy seasonal movies and mistletoe-bearing mixologists shaking up "winter-tinis." My fave?! Frosty's Goin Down!—made with vodka and marshmallow puree, garnished with graham cracker crust and topped with a snowman marshmallow peep.

Sample Boutique Wines of the West Coast during the first of a series of tastings on the spectacular patio at Fred's at Barneys New York. You'll taste seven small-production wines paired with hors d'oeuvres. 5:30-7:30pm. $35.

And loosen up. It's Friday, after all. Sonotheque kicks off Underground Groove Theory with resident deejay Torin Edmond, plus Sean Haley spinning underground and rare house music. 9pm-2am. $5 before 11pm; $10 after.

SATURDAY

For those hitting up Venetian Night, leave the food to Osteria Via Stato, which has whipped up some nifty Italian picnic boxes. For $15 a person, you'll get marinated olives, choice of sandwich, choice of side salad and Italian cookies. Orders must be placed by noon Friday, and picked up by 6pm Saturday.

For those skipping Venetian Night in favor of neighborhood fests, two main ones are on tap. Taste of Lincoln Avenue happens between Fullerton and Wrightwood avenues, and Wicker Park Fest occurs right off the Six Corners. Live music, madness, makeout sessions, moonshine, more. Saturday-Sunday.

Those attending Wicker Park Fest must stick around for the Michael Jackson Thriller Zombie Walk, starting at 10pm at the actual Wicker Park. The last time I checked, more than 1,086 peeps had signed up to participate. That's right. They're dressing up as zombies and doing the Thriller dance on the one-month anniversary of the death of The King of Pop. After-party's at Debonair Social Club with drink specials and free admission to anyone showing up looking like a zombie (hell, that could be anyone in this 'hood!). Free.

We thought we had seen the last of those massive turkey legs when the Taste of Chicago ended, but apparently not. Risqué Café hosts the first-ever turkey leg eating contest, which is not going to be a pretty sight at all. Those who wish to compete must sign up by midnight Friday with a $25 registration fee. Or, if you're not competing and just want to eat, turkey legs are $5 (with $2 Stroh's cans).

SUNDAY

The team from wildly popular People Lounge hold their first brunch service at new spot Division Ale House. Sure-fire standouts will be the saffron risotto with bangers, onions and Parmesan cheese; thick-sliced sourdough French toast infused with Grand Marnier; and the breakfast Sliders (three mini croissants filled with scrambled eggs, Irish Cheddar cheese and choice of bangers, Irish bacon or Applewood-smoked bacon). All entrees served with home fries; $8-$11. 11am-2:30pm.

MONDAY

And every Monday you can head for the build-your-own StanBurger bar at Stanley's. Choose from one-half Angus, turkey burger or chicken breast and load up with sauces and toppings, including fried egg, corn relish, bacon and cucumbers. Pair it with vodka lemonade or "spiked" milkshakes (caramel & Maker's Mark or Jim Beam Red Stag & Cherry). All are $5 each.