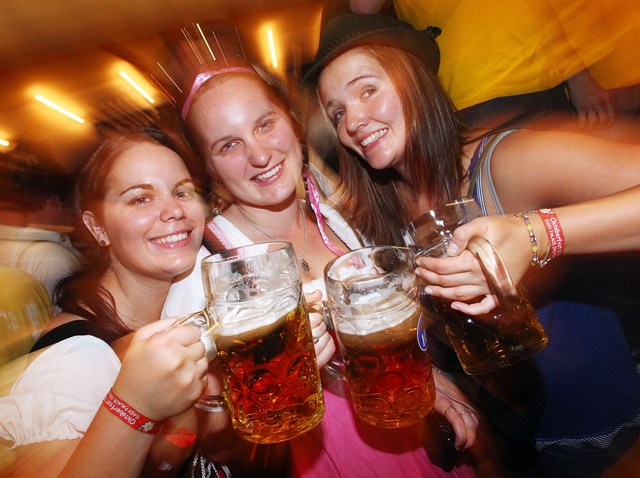 Chicago's finally getting the props it deserves when it comes to hops, as told in a 2009 New York Times story about the city's new wave of microbrews scattered throughout the trendiest neighborhoods. The 312 Dining Diva has a roundup of a few sudsy soirees where you get your brew on this weekend.

THURSDAY
If you're on a budget, one of the best bets of the night is at new River North hang The Fifth. The Thursday night special is the $5 Kobe burger and $1 off craft beer drafts.

FRIDAY
SmallBar owner Phil McFarland says "people freak out" when he gets Bell's seasonal HopSlam—which is currently on draft at both locations in Wicker Park and Logan Square. He warns that this beer is not for the weak at 10 percent alcohol by volume, in comparison to Miller Lite's squirrely three percent ABV. Also new is Bell's Java Stout, a chocolaty sensation; 3Floyds Dreadnaught, another high alcohol, hoppy beer; and Allagash Brewing's Burnham Road, a smoked Belgian-style blonde that McFarland says is a rare draught to find in Chicago.

SATURDAY
With provocative names like Full Frontal Pale Ale and Dark-n-Curvy Dunkelweizen, how could you resist?! Piece's award-winning Ameican-style pale and German-style wheat ales respectively go well with their New England-style pizzas. Plus, after a few of those you'll have the courage you need

SUNDAY
Sunday nights are laid back at Le Bar, now that they're serving up moules and frites. You'll get a full portion of black mussels steamed with Stella Artois. It comes with fries and aioli for $9.50, and for an additional $5 you can indulge in a Fat Tire, Guinness, Alpha King, Shiner Black or Goose Island.

MONDAY
And Wisconsin's Tyranena Brewery, new to the Chicago scene, hosts an event at Bluebird for fans to sip through their selection of suds. You'll enjoy such mainstays as the Headless Man, Rocky's Revenge and Bitter Woman IPA, but they'll also sample a little Shaggin' on the Wood, a scotch ale aged in bourbon barrels. Snacks included. 7:30-9:30pm. $20.

Audarshia Townsend is the creator of the local food blog 312DiningDiva.com. She also provides content for Dining Chicago and Playboy.com.