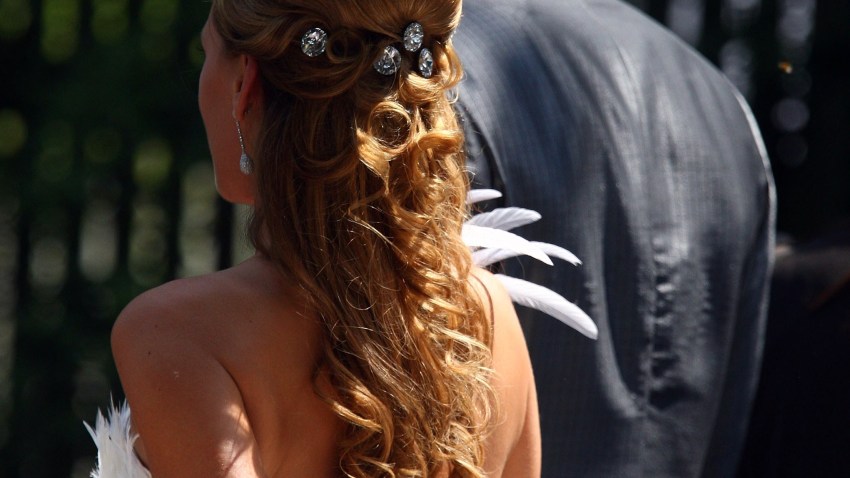 Bridal Salon at Macy's
The new affordable luxury. They offer many couture gowns starting at just $1,500 and the national average for a wedding gown is $1,000. The reason why this salon in interesting, is that while they do sell couture gowns costing upwards of $10,000, they have hand selected many fabulous gowns for $1,500 that mirror the level of craftsmanship of a $8,000 gown. In addition, they have sample sales throughout the year where a bride could pick up a $10,000 gown for half of the original price. The salon manager will pull out an entire grouping of luxury gowns for the "deal" price of $1,500. The salon décor speaks luxury, luxury, luxury.

Christopher Dillon-Bridal Salon Manager at Macy's on State
Bridal Salon At Macy's
111 North State, 4th Floor
Chicago, IL
Brides and grooms can go direct to the ring manufacture and save thousands of dollars off retail and have a custom ring designed specifically for them while keeping the cost really and getting a fabulous deal. I think this is one of Chicago's best-kept secrets. A great engagement ring or wedding band at below retail cost. So if you have a budget in mind, they will work with nearly any budget within reason. (Meaning, they have great quality, but if you are looking for a diamond engagement ring for $300 you will want to go to Wal-Mart.)

Larry Zimont-Co-Owner
Location-blocks from Macy's on State Street in Jewelers Row
Ethan Lord Jewelers
5 South Wabash
Suite 610
Chicago, IL 60603
Tim Whaley has a team of fantastic photographers who are experts in the hottest trend in wedding photography: photojournalism. And being a smart and concerned businessman, he offers a "recession" package and safety net that if the bride or groom lose their jobs, need to postpone their wedding, he will transfer all their deposits to another date when it is financially better for the couple. As with many vendors, brides need to book early for the best-of-the-best and may be worried about the economy. Tim takes the worry away and also offers additional discounts when his consultants meet with couples.

Timothy Whaley
Location: Printers Row
801 S. Wells / Suite 710
Chicago, IL 60607
Phone: (630) 271-1737
Offers a bridal show special of 10% off. Average cost for a wedding cake runs $500 to $800+. (Plus, meaning you will pay more for a 10 foot tall cake!) Oak Mill Bakery in my view is one of those unique vendors in Chicago who started from nothing and built a large business based on "quality and value". They are doing a great job, the cakes are awesome, and they are affordable compared to what other downtown bakeries are charging. Oftentimes others charge a minimum of $900. And 10% can add up -- particularly when you consider it is just one component of many items needed for the traditional American wedding. Bogna, the owner, started the company in the early 1980s.

Oak Mill Bakery
Bogna Solak, owner
5753 W. Belmont Ave.
Chicago, IL 60634
(773) 237-5799
This company is very, very unique in that they work with brides on a variety of budgets and tailor their floral design to the bride's budget. Want to spend just $80 per centerpiece, then they will do a fabulous job. Have a bigger budget and want the wow factor, then they will can do centerpieces as much as $600 per table. Their showroom is exquisite and Anthony and Stephanie are the masters at high-end floral décor that is fabulous, even if you are on a budget (and who isn't?).

Anthony will present for you several price options and how to stretch your dollar really, really far. Here is another success story of a couple who started their business from scratch, have built a major floral business in Chicago, but understand the realities of what today's brides' budgets really are.

Anthony Gowder Designs Inc
1733 West Hubbard
Chicago, IL 60622
Park Grill is a wonderful venue for a wedding. People can get married in the heart of the city outside at Millennium Park, or inside the great Park Grill.

The venue is currently offering a special for anyone that books their reception at the restaurant. Guests will receive one of the following complimentary gifts:
Champagne Toast
2 additional Passed Hors D'Oeuvres or Reception Desserts
Waived Cake Cutting Fee
Assorted Cookie and Candies Served with Wedding Cake
Late Night Passed Snack of Mini Park Grill Burgers and Mini Milkshakes
Personalized Wedding Favors (1 per guest) with options including Bag of Mini Cookies, Box of Truffles, Tea and Cookie Box, Monogrammed Cookies, Chocolate Dipped Tuxedo Strawberries, etc.
Swap for used dresses.
This is a little different than the previous company. With this one, you drop off your clothes at different sites all over Chicago. You receive a chip and receipt for each item you donate. Then, there is one huge swap day at a bar in Chicago. Their last event took place at the end of March. The site doesn't mention any upcoming ones.
There are two groups that seem to swap clothing. The first is an Oak Park group that trades kids clothing and toys. It is mainly parents that get together and swap kids' clothing. But they have not actually swapped anything yet, so it might still be just an idea. The second is a Chicago group that is operated out of a boutique. This group is a little different, because they just carry second hand clothing and accessories that are better quality than thrift stores, which they then sell for cheap. They have had a few events where you take in an item and are able to swap it for an item in the store.