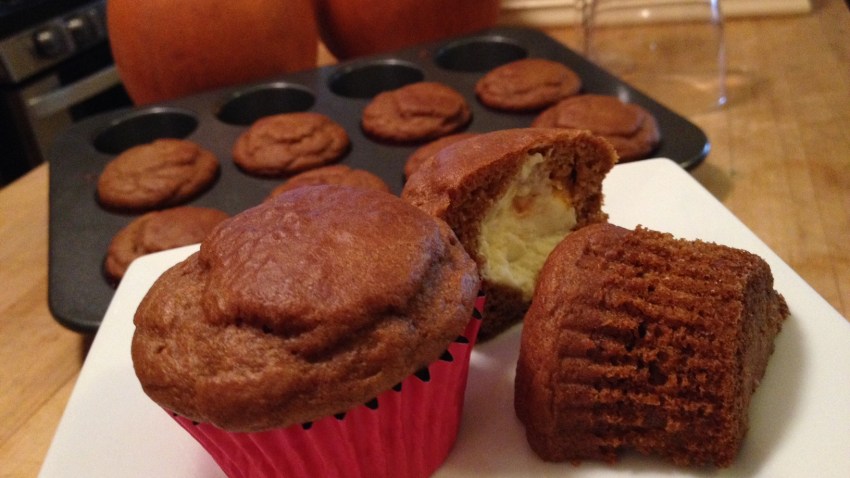 If it's fall, it's time for pumpkin recipes. As a versatile ingredient, pumpkin can be used in both sweet and savory dishes like soups, pastas, cookies and pies. I've shared a number of pumpkin recipes in the past and I'll provide the links down below.

Pumpkin is prefect in muffins, too, especially when combined with an orange flavored cream cheese frosting. As a little twis this recipe stuffs the frosting inside the muffin so you get a flavorful surprise with your first bite.

Cream Cheese Stuffed Pumpkin Muffins
makes 12 muffins

Ingredients

muffins

1 1/2 cu All-Purpose Flour
1/2 cu Light Brown Sugar
1 tsp Baking Powder
1 tsp Baking Soda
1 tsp Cinnamon
1/2 tsp Nutmeg
1/4 tsp Ginger
1/2 tsp Salt
1/3 cu Buttermilk
2 lg Eggs
3 tbl Vegetable Oil
3 tbl Molasses
2 tbl Fresh Squeezed Orange Juice
1 cu Pumpkin 100% Pure Pumpkin, from a can

filling

5 oz Cream Cheese, room temperature
1 tbl Orange Zest
2 tbl Powdered Sugar
1/2 tsp Fresh Squeezed Orange Juice

baking materials

12-Cup Muffin Pan
12 Cupcake Liners
Butter Flavored Cooking Spray

Method

Preheat oven to 350 degrees F.

Mix together flour, brown sugar, baking powder, baking soda, cinnamon, nutmeg, ginger and salt in a large bowl. In a separate smaller bowl, combine buttermilk, eggs, vegetable oil, molasses and orange juice. Pour liquid ingredients into dry ingredients and add pumpkin. Stir mixture for 2 minutes until well blended. Transfer mixture to a sealable plastic bag and set aside.

In a smaller bowl, cream together cream cheese, orange zest, powdered sugar and orange juice. Transfer mixture to a smaller sealable bag.

Place cupcake liners in the muffin pan. Spray liners with cooking spray. Cut about 1/2" off of one corner of the bag containing the batter and squeeze the batter into the liners, filling each to about 1/3 capacity. Make a similar cut in one corner off the cream cheese bag and squeeze out about a tablespoon worth of filling. Pull away that portion of the filing with your fingers and place it in the center of the batter in one of the cups. Repeat with the rest of the filling.

Squeeze the remainder of the batter around and on top of the filling in each cup. Bake for 18-20 minutes or until a toothpick or small wooden skewer inserted into a muffin comes out clean.

Remove from oven an allow to cool slightly before serving.

Previous Wayne's Weekend Pumpkin Recipes

Pumpkin Pie

Pumpkin Soup, Lasagne, Ice Cream and Cake

Pumpkin Hot Chocolate

If you have any comments or questions, please send me an email at wayne@waynesweekend.com or follow me on Facebook or Twitter.