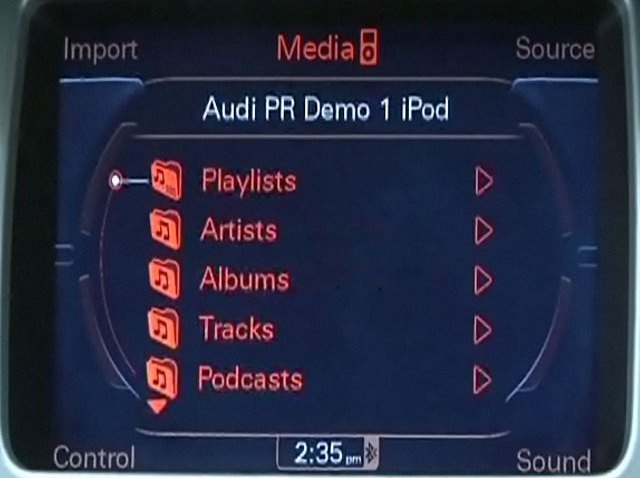 The days of CDs, cassettes and 8-track tape decks in your car are long gone. Now it's all about the iPod and iPhone.

While taking your iTunes on the road is nothing new, automakers are racing to integrate the tiny music players into their vehicles.

The latest case in point: the Audi Q7 Clean Diesel.

The optional $6,000.00 Bang and Olufsen audio system keeps the iPod safe and charging in the glove box and places controls both on the center console and the steering wheel.

And there are two screens: the big SatNav screen on the dash and a color LCD between the speedometer and the tachometer, the latter to keep you from taking your eyes off the road.

"The luxury car buyer expects this level of integration," said Audi's Christian Bokich, "You have to be able to keep your vision and your attention straight down the road.

Domestic automakers are also designing their systems to be useful and safe.

At this year's Consumer Electronics Show, Ford announced major upgrades to its popular Sync System, which allows drivers to control their iPods and mp3 players along with the navigation and climate controls with simple voice commands.

The new system, on display at the Chicago Auto Show, integrates in-car WiFi.

A new Dodge Grand Caravan on display this year includes rear seat monitors and the FLO-TV system for live TV on the road.

"Look at the way manufacturers are building electronics into their vehicles," said Dave Sloan of the Chicago Automobile Trade Association. "They are finding ways to make them less obtrusive and less distracting.

Sloan said he finds it fascinating that he can now talk to his iPod while he is driving.

While the systems built in to new cars are slick, there are good solutions available for older cars that besides those that depend on wonky FM transmitters. Some of those aftermarket systems will even let you keep your factory radio. You can learn more at Apple's iPod Integration page.