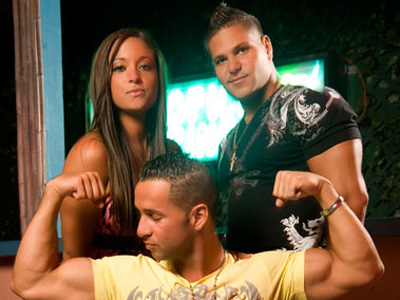 Is it just a coincidence that Groundhog Day was this week, because it seems like we've heard this story before.
"Jersey Shore" cast members Sammi and Ronnie have canceled a scheduled appearance at McFadden's Restaurant and Saloon.
A bar rep says the two former lovebirds had to pull out so they could appear on the Jay Leno Show and The Ellen Degeneres show on Thursday.
The event has been rescheduled for three weeks from now at the same venue, which gives you more take to practice for the fist pumping contest and grow more hair for the best poof contest.
So what about Snooki's appearance at Manor on Friday? A PR rep says it's all good, and the pint-sized reality show star is still scheduled to appear.
Snooki already canceled a previous appearance a few weeks ago at the same club, leaving her fans in a pickle.
Look for her to show up around 11:30 p.m., poof and all.