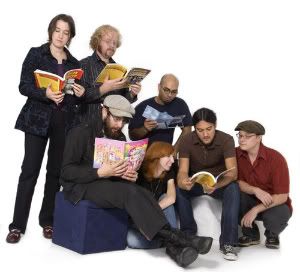 Chicago's own Scotland Yard Gospel Choir has been making waves opening for the likes of The Arcade Fire, Spoon, The Violent Femmes, and Of Montreal. This chamber pop collective mixes dark humor with an eclectic mix of instruments and styles, at times sounding like The Ramones hired a backing orchestra, and at other times straight-up Belle & Sebastian-influenced folk. They're currently finishing up a new album, due out in the spring, and will be ending 2008 headlining a show at the Double Door tomorrow night. SYGC's shows are always high-energy, which is almost inevitable for a band of this size in an intimate venue like the Double Door but is mostly due to their strong attention to detail and effort put into their live act. This is surely a show you will not want to miss.
Catch SYGC this Friday, December 19th, at the Double Door, 1572 N. Milwaukee Ave. The show starts at 9 pm, but arrive early because the first 100 people through the door will receive handmade buttons and mix CDs from the band. Tom Schraeder and His Ego, The Fabulous Putterbaugh Sisters and DJ Screeble Dee will open. As always, the Double Door is 21+. Tickets are $10 and can be purchased online here or at the Double Door box office.
Really Quick Contest! One lucky reader can win a pair of tickets to the Scotland Yard Gospel Choir show tomorrow, Friday 12/19 at the Double Door. Just be the first to email us at contests (at) gapersblock (dot) com with the subject "La La La" and you and a friend can have sweet night of free entertainment, courtesy of Bloodshot Records. UPDATE: We have a winner! Congrats to Brandon!
Copyright Trans - Transmission