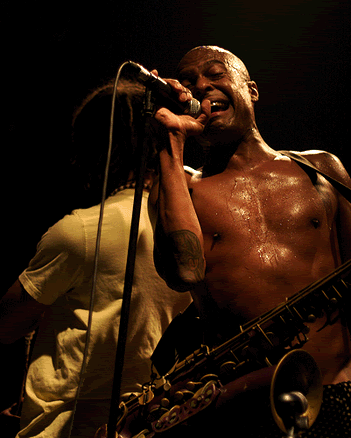 Skanking, crowd surfing, limbs flailing, spending almost as much of the show leaping around and from the stage as planted on the floor banging out licks. When they first hit the scene in 1985, Fishbone were the sort of band that could only have come about under certain odd and unique auspices. Fist coming together in junior high school, they were initially just a bunch of rambunctious kids who wanted to make some noise by blowing some horns and banging on trash-can lids.
As a group of young brothers (in both the literal and figurative sense), the Fishbone crew had obviously grown up knee-deep in the funk of James Brown, the P-Funk family, the Isleys, Curtis Mayfield and such. But hailing from south central Los Angeles, they'd also gained exposure to a plethora of other types of music via L.A.'s club circuit and thriving punk culture -- all of which resulted in Fishbone coming up with their own polychromatic purée of hard rock, metal, punk, ska, reggae, funk and soul.
Theirs was the sort of wtf, strange musical brew that sometimes thrived in the fragmented and stylistically promiscuous margins of the 1980s music scene, and which -- more bafflingly -- would occasionally get signed to a major label deal in that era. Over the next eight years, they'd release four albums via Columbia, graze the Billboard charts, net a little airtime on MTV, land themselves a sizable "crossover" cult audience, and earn a reputation as the one of the world's funkiest and most energetic live bands.
In the 1990s, when third-wave ska, metal-rap, and genre-mashing offshoots became hot and marketable niches, Fishbone were cited as an influence and inspiration by several maintream acts. But just as the group should have been hitting their stride and collecting their due, a series of misfortunes dragged the band out of the spotlight. After guitarist Kendall Jones went off the tracks and joined a religious cult in 1993, the band entered a long stretch of instability -- being bounced from label to label, suffering line-up changes as band members drifting in and out and back again, and found the attention of many listeners and fans drifting elsewhere as their records increasingly suffered the (all-too-common) fate of shitty distribution.
But through it all, Fishbone have kept at it -- continuing to tour, work on various side projects, record and sporadically releasing the albums (most recently, 2007's Still Stuck In Your Throat). This autumn, they're undertaking their most extensive U.S. tour in several years, and are bringing it to Chicago this Saturday evening with a headlining set at Subterranean. The band's touring companions Heavy Mojo and Natives Of The New Dawn will be performing in the opening slots, as will 48sin and DJ Chuck Wren. Doors open at 6:30 PM and the show's set to start at 7. 2011 W. North Ave. Tickets are $13 in advance and $15 at the door, and it's an all-ages show.
[video]: Fishbone - "Party at Ground Zero" (1985)
[video]: Fishbone - Japanese TV interview (c. 1987)
[video]: Fishbone - "Freddie's Dead" (1988)
[video]: Fishbone - "Swim" (1993)
[video]: Fishbone - "Let Dem Ho's Fight" (2007)
Copyright Trans - Transmission