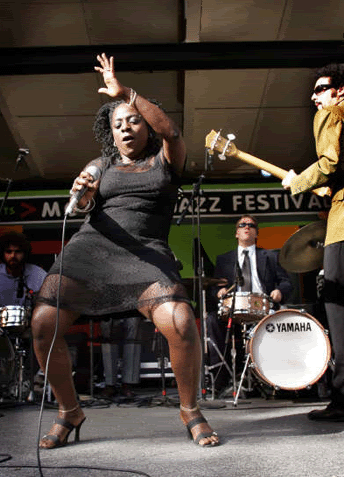 Some things in life you just have to learn for yourself -- usually the hard way. But often times, especially during one's younger and formative years, there's some guardian or elder figure there to offer warnings or advice. For instance, one of my Cajun great-uncles, who once told me: "The one thing you need to know is how to stay outta trouble. Because the thing about trouble is that it's real easy to get into; and once you're in it, it's a total bitch to get out of." Words like that often go a lot further when you know you're hearing them from someone who knows what they're talking about.
It seems Sharon Jones, by virtue of her age and experience, knows a good bit about trouble. About being in it, staying out of it, and knowing it when you see it. And to hear her sing, it also sounds like she also knows a good deal about other big things in life; about heartbreak, tenderness, forgiveness, knowing when to put your foot down and not be played for a fool, and -- perhaps more importantly -- about patience for the sake of That Love You Gotta Work On Because One Day It'll (Hopefully) Be Worth It.
That, and the woman also knows about working hard. Over the years, Jones held down a series of straight jobs; chiefly among them a long stint with the New York City Department of Correction as a security officer at one of those places where people who get in trouble wind up -- Riker's Island. When she wasn't doing that, she was also intermittently working as a backing and session vocalist over the years, and spent nearly two decades fronting for a wedding band. Things began to turn around in the late 1990s, however, when Jones crossed paths with a Brooklyn-based ensemble that were calling themselves the Soul Providers. The group soon brought her aboard as their vocalist, changed their name to Sharon Jones & The Dap-Kings, and set about to gigging and releasing records on their own independent label, Daptone Records.
Sharon Jones and The Dap-Kings have had a good run in the past year or so, finally finding success and a big, enthusiastic audience through their efforts. First the Dap-Kings earned themselves a lot of deserved attention for the job they did of putting some much-needed plumage on a certain English songbird. On top of that, Jones and the band released their third LP, 100 Days, 100 Nights, which proved to be their "breakthrough" venture for critics and new fans alike. Small wonder, since the album packs a superb groove -- the sort that's deftly in the pocket and deeply couched in the sound of red-dirt classic Soul, harkening back to the days when Memphis and Muscle Shoals served as the twin centers of the R'n'B universe.
Sharon Jones & The Dap-Kings are on the road again, and this Thursday evening they'll be playing The Vic Theater. The group earned a reputation for pulling on a helluva live show; so if you haven't caught them yet, now's a good chance. Doors open at 8 PM and tickets are $21. 3145 North Sheffield Avenue. Check the Vic's website for further info.
[video]: Sharon Jones & The Dap-Kings - "100 Days, 100 Nights"
[video]: Sharon Jones & The Dap-Kings - "Let Them Knock" (live)
Copyright Trans - Transmission