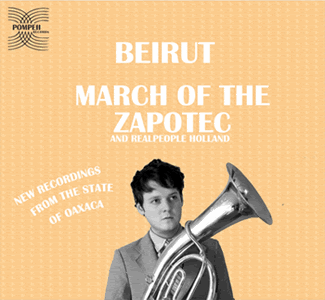 A couple of years ago, Zach Condon -- multi-instrumentalist and maestro for the indie band Beirut -- took a detour from his usual Balkan-ized musical fare and ventured into different terrain. Approached to do the soundtrack for a film to be set in Mexico, Condon traveled to a remote village in the province of Oaxaca in order to conduct some musical field research. There he worked with a local ensemble -- a 13-piece Jiminez funeral marching band, to be more precise -- and began crafting a new series of songs influenced by the Oaxacan style of banda music.
In the end, the film's backers reputedly opted for a soundtrack of the more generically cinematic variety. But the result of the journey was the new Beirut recording March Of The Zapotec, which is now seeing release in its U.S. vinyl edition via the Chicago-based Obey Your Brain label. The album features six tracks of the new Beirut material born from the Mexican sojourn, as well as five additional tracks (grouped under the title Holland) of Condon's bedroom electronics work under his pre-Beirut alias Realpeople.
Next Tuesday night, the crew from Obey Your Brain presents a chance to hear the new Condon project as they host the latest installment of the OYB night at Sonotheque. The evening kicks off with a listening party for March Of The Zapotec/Holland, followed by performances by moody, miasmic dream-popsters Golden Birthday and from Magical, Beautiful (the latter of which features -- speaking of marching bands -- members of Mucca Pazza). Chris from Icy Demons and Chandeliers will be spinning sets from the DJ booth throughout the evening. The event kicks off at 9 PM, and admission is free. 1444 W. Chicago Ave.
[video]: Beirut - "La Llarona"
Copyright Trans - Transmission