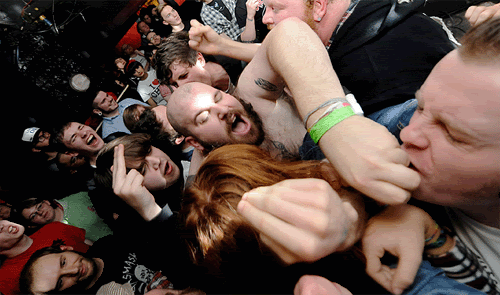 Despite their dodgy, censor-baiting name, the Toronto-based punk outfit Fucked Up hit the indie-rock mainstream in a big way in 2008. But there's no small irony in the fact that their success arrived when a major shift in the socio-political tide was taking place. The irony was enough to prompt one critic, in a review of the band's latest LP The Chemistry Of Modern Life, to muse: "In times like these, can a band like Fucked Up continue to be relevant?"
Fair enough. In many ways, Fucked Up adheres to the ethos of classic Reagan-era hardcore punk. In its first-gen, early 1980s form, hardcore howled -- red-faced and fist-waving -- against the reactionary politics of its day; giving the middle-finger salute to complacency and apathy in the face of injustice, to living in the shadow of potential nuclear annihilation, etc. Since first coming together in 2001, the group has drawn heavily from classic hardcore's spirit of defiance and protest -- from its cathartic bombast, right down to adorning their records (26 seven-inch releases and counting) with graphic references to radical leftist political movements of the past.
For many listeners, such rhetoric and attitude had been given a revitalized imperative over the past eight years. Still, Fucked Up's appeal may lie in the fact that they're no mere boilerplate, by-the-numbers revivalists. The band's sweeping, multi-part songs -- often laced with unorthodox instrumentation and subtle melodic shifts -- seem almost Dostoyevskian in scope and complexity when stacked alongside the compact minimalism of their old-school influences. And lyrically, they manage to avoid the mistakes of many previous punk agitprop-sters, realizing that social critique and sloganeering (like comedy, poetry et al) often work best in broad, thematic strokes -- attaining optimum effect by not getting too bogged down in specifics.
Fucked Up's live shows are notorious for their chaotic energy, complete with bellowing sing-alongs and riotous mosh pit mayhem as the band ferociously whips the crowd into a frenzy. So if your Valentine's Day plans aren't reined in by the usual romantic requisites, you've got two chances to catch Fucked Up as they play a pair of shows on the evening of the fourteenth.
Early Valentine's Night, they'll be headlining at the AV-arie in the West Loop. Chronic Seizure opens. The show begins at 7 PM, it's an all-ages show, and admission is $10.
After that, they're heading over to the Empty Bottle, topping a bill that also includes A/V Murder and Boytown on the opening bill. The Bottle show begins at 10 PM, and tickets are $10. See the Bottle's website for tickets and information about both shows.
[video]: Fucked Up - "Crooked Head"
[video]: Fucked Up - "Twice Born (MTV live clip)"
Copyright Trans - Transmission