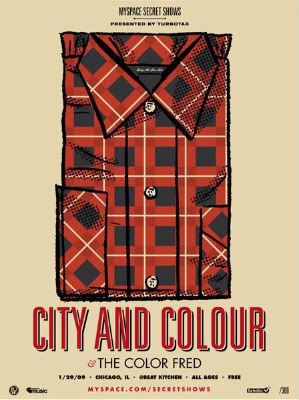 For the past two years, MySpace Secret Shows have been bringing large bands to small venues for free intimate concerts. You may remember Moby's secret DJ set at SmartBar last April. They've also brought such acts as The Cure, The Decemberists, Lily Allen, and even Neil Diamond to clubs around the country.
This Thursday night, MySpace Secret Shows return to Chicago with Ontario's City and Colour (the acoustic side project of Alexisonfire's Dallas Green). Joining him on the bill is The Color Fred (the side project of Taking Back Sunday's Fred Mascherino).
The show is Thursday night, January 29th, at the Beat Kitchen, 2100 W Belmont Ave. The show starts at 7 pm and is all ages. It's first come, first served, so plan to arrive early. The first 15 people who bring a printout of their MySpace page with Turbotax in their top friends will get express entry.
Click below for City and Colour's new music video, "The Girl".
The Girl
Copyright Trans - Transmission