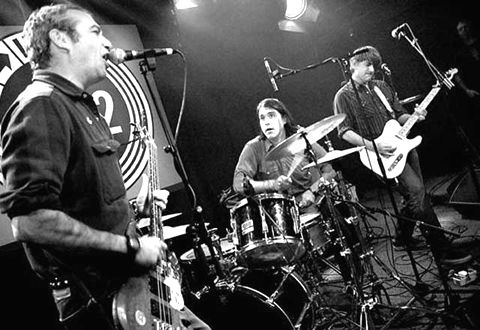 Come hell or health problems, Mike Watt doggedly adheres to his age-old ethos of "jamming econo" and working the "thud" end of things.
Arguably the punk movement's most technically adept and hardest-rocking bassist, Watt first came to prominence in the 1980s with his work in the Minutemen and fIREHOSE. And in the intervening years he's managed to stay indefatigably busy and prolific. Recently, he served as the bass player for the resurrected line-up of the Stooges, and he's also continued to record and tour with a dizzying number of bands and projects.
One such current project is the ensemble Unknown Instructors, whose fourth album, Funland, drops via the Chicago-based Smog Veil label this month. The group marks an all-star reunion of alumni from the SST stable of yore. In addition to Watt, Unknown Instructors also includes former Minutemen drummer George Hurley, guitarist Joe Biaza from Saccharine Trust and Universal Congress Of, with Joe Carducci -- former SST maestro and author of the aesthetic tome Rock and the Pop Narcotic -- handling the product boards. Vocal duties go to Watt and Toledo-born poet Dan McGuire, with contributions from Pere Ubu frontman David Thomas and former Black Flag sleeve artist (and current art-world big cheese) Raymond Pettibon.
Ultimately, the project might beg the question: Does the '80s punk/alt-rock set need its equivalent of the Traveling Wilburys? Maybe not, but on Funland Unknown Instructors sounds more like The Magic Band as fronted by four Ken Nordines in search of a roadmap. Watt and Hurley shift rhythmic gears at the drop of a dime -- going abstractly diffuse and free-form at some points, getting vaguely funky at others, but generally keeping things steady by banging it out hard and steady. As the deft and dynamic core of the group, they manage to keep all the critters from straying too far from the range, hemming in a lot potential chaos as Biaza threatens to get unruly with his usual manner of fret-strangling jazzoid noodlespew. Watt, McGuire, Thomas and Pettibon each take turns at the mic, spinning post-Beat narratives and travelogues as the whole party gets willfully lost on a maze of backroads and byways that connect dying Rust-Belt cities and far-flung border towns alike. Before it's all over, they do a loose cover of Beefheart's "Frownland," Watts pays homage to the Windy City, and Pettibon pinches from GFR by ironically proclaiming "We're an American band!"
Watt's in town this Thurday night to play Schubas with one of his other projects, Mike Watt & the Missingmen. The trio also features guitarist Tom Watson, formerly of the band Slovenly. They've been known to lace their sets with plenty of classic punk cover tunes, including songs by Television, Wire, the Stooges, Roky Erickson, and - yes -- the Minutemen. For the current tour, Watt and crew will reputedly be playing material from "hyphenated-man," the third and most recent of Watt's supposed "punk-rock operas." The Nones play the opening set. Doors open at 9 PM and admission is $15. 3159 N. Southport.
Copyright Trans - Transmission