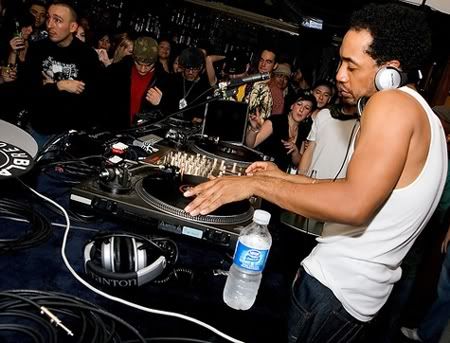 Chances are good that you're familiar with DJ and producer Prince Paul in one way or another. Either as the man behind the decks in Stetsasonic, for the number of concept albums he's released over the years, from his work in Handsome Boy Modeling School, or most likely you might know him for the major role he played in shaping the first three albums by De La Soul.
Even though it's never translated into getting stinkin' rich or leading a glamorous life, Paul's always gotten mad respect as an innovator and an outside-the-box craftsman. And he's been quick at trading on that clout over the years. Among other things, he's recently worked with Funkadelic keyboardist Bernie Worrell on their collaborative Baby Elephant project, and he also had a major creative hand (with some critical input from his 5-year-old daughter) in producing the Baby Loves Hip-Hop CD. Presently, the rumor's been circulating that he's working on the next Souls Of Mischief album, a job which -- to hear Paul tell it -- has him amassing an array of vintage analog equipment to give the tunes a warm, throwback feel.
Prince Paul will be making a special appearance in Chicago with a headlining DJ set at Zentra this Friday night. The occasion for the evening is a birthday party for local beat-slinger DJ Intel, who -- along with DJs Pickel and Lego -- will be getting the party started in the earlier leg of the evening. Admission is $10, and doors open at 9 PM. 923 W. Weed Street.
[video]: De La Soul - "Ring Ring Ring (Ha Ha Hey)"
[video]: Gravediggaz - 1-800-SUICIDE
[video]: Prince Paul & Dante Ross - "The BeatLab"
[audio]: Prince Paul - "It's a Stick-Up"
Copyright Trans - Transmission