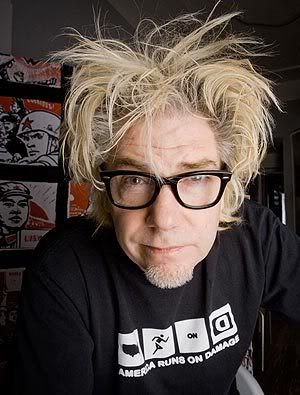 So you've gotten some friends together and decided to form a band. You've thought of a clever name for yourself and have written a few songs together. You're ready to take the next step, but aren't sure where to start. Rather than sitting around waiting to get noticed, you can take matters into your own hands. With some hard work and ingenuity, you can book your own shows, promote yourself, and sell your music without paying someone else to do it for you. Martin Atkins is here to show you the way.
Martin Atkins, author of Tour:Smart, has made a name for himself as a drummer for Public Image Ltd., Ministry, Pigface, Killing Joke, and Nine Inch Nails. He's also the owner of Chicago label Invisible Records, and writes an advice column for bands on Suicide Girls (link NSFW). Pretty much, this guy knows his stuff, and he's willing to impart his wisdom onto you and your band tomorrow night, for free. Martin will be hosting a seminar at Reggies on Thursday, where he will discuss the state of the music industry, plus how to book yourself, market yourself, and succeed as a band. Did I mention the seminar is free? They'll also have free appetizers and Red Bull.
The Tour:Smart Band Summit is happening Thursday night at Reggies, 2105 S. State St. It lasts from 6:30 - 9:00 pm and is all ages. While the event is free, you must register beforehand by signing up here.
Copyright Trans - Transmission