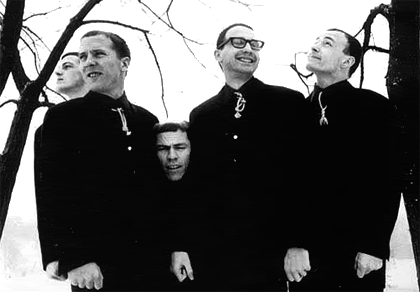 The Monks in Hamburg, Germany, c. 1966
They always wore black. They shaved their top of their heads into monk's tonsures. They sometimes appeared on stage in robes and with nooses around their necks. And they banged out a style of garage rock that was so minimal and primitive that it made the Velvet Underground sound absolutely baroque by comparison.
The Monks came together when five American G.I.s who were stationed in Germany picked up a bunch of instruments and, for lack of anything better to do, started a band. Like the Beatles who preceded them by a few years, they paid their dues and gained their earliest fans by playing dodgy clubs in Germany, especially Hamburg. But whereas the Fab Four grabbed listeners with catchy tunes and a syncopated backbeat, the Monks had their own musical approach. "We got rid of melody," bassist Eddie Shaw later recalled. "We substituted dissonance and clashing harmonics. Everything was rhythmically oriented -- bam, bam, bam. We concentrated on over-beat."
From the sound of it, The Monks weren't in it for the money or the fame; and as evidenced by obnoxious songs like "I Hate You," "Shut Up!" and "Boys Are Boys And Girls Are Choice," they weren't doing it charm the ladies and pull groupies, either. The Monks just wanted to raise a primal batshit ruckus, which is probably why -- despite the scarcity of their recorded output -- their music would later be cherished, championed and revived by punks in the years that followed.
The Monk's music has been compiled and reissued on CD in recent years, and the band has lately reformed and played some gigs as well. And now comes the 2006 film documentary of the band's legacy, The Monks -- The Transatlantic Feedback, which will be making its first Chicago run with screenings at the Gene Siskel Film Center between Christmas and New Year's (December 26 - December 30). 164 N. State. Check the Film Center's website for times and ticket info.
[video]: The Monks - "Monk Chant"
[video]: The Monks - "Oh, How To Do Now"
Copyright Trans - Transmission