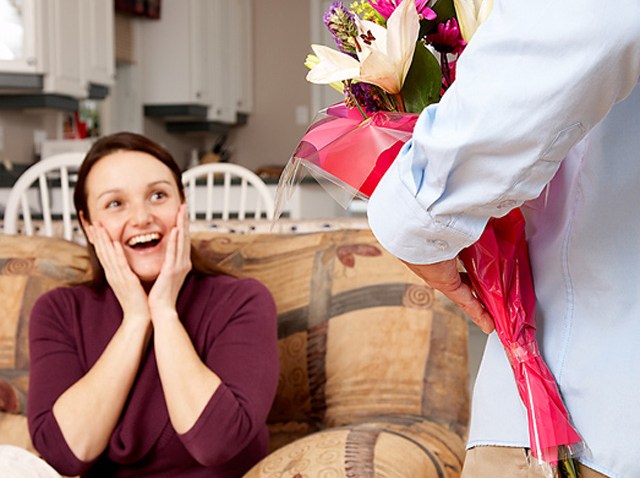 If you tend to flub holidays and can't seem to make it last in the love department, we've got the solution. Dr. Sari Locker, celebrity relationship expert, has teamed up with The Body Shop to offer tips for keeping a woman happy this Valentine's Day.
Declare your devotion: Never assume she just knows how you feel, Dr. Sari says. Actions speak louder than words but words are very important, too. Sing a love song on her voicemail. Compose a love poem and text it to her. Leave erotic post-it notes all over the bedroom. Remind her that your love is true and you adore her.
Be nostalgic: Give her a CD of a band you heard together, a poster from the first movie that you saw, a t-shirt from a great place you went together. Show her that everything you do in your relationship means a lot to you, that doesn't mean you have to drop hundreds of dollars.
Hold her hand: Whether you go for a moonlight stroll, or just hold her hand as you snuggle on the couch, holding her hand all night will show her that you are there for her. Heat up the intensity by treating her to a hand massage with a stimulating hand cream or massage oil. Try a product like Wise Woman Defense hand & Nail treatment.
Give her something: It may seem like a no-brainer, but get her a gift, even if it's small, Dr. Sari says. And get her something a little different than she suspects. Give her floral perfume, rather than just giving her a bouquet of flowers; then offer to apply it to her pulse points. Perfume will outlive any bouquet of flowers, and she can wear it to remind her of your Valentine's Day together, she says.
Sexy Valentine's scavenger hunt: Hide many small spa gifts for her to find, such as relaxing massage oil, body butter, foaming bath soak, and more. With each gift, include a clue to where she can find the next gift. The last gift leads her to the bathroom where you have drawn a foaming bath for her amid the glow of sweet smelling spa candles.
For the rest of Dr. Sari's love tips with The Body Shop, visit www.thebodyshop-usa.com.