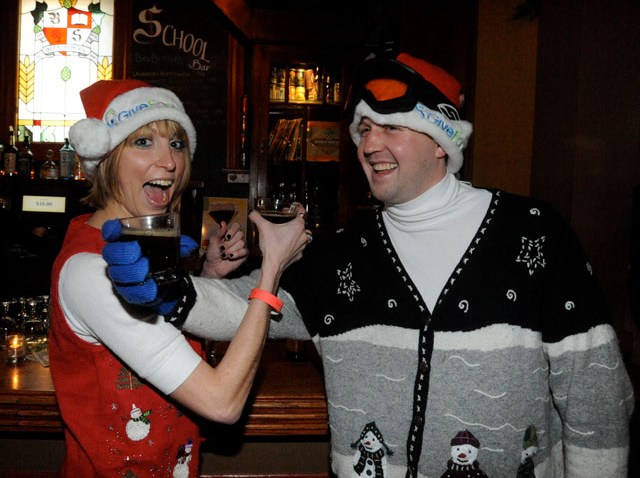 Like your grandmother's Christmas fruitcake, the ugly sweater holiday parties refuse to go away.

So why bother fighting it? It's time to uncover the most hideously ugly Christmas sweater you can find and get your party on.

Jbar at the James Hotel gets ugly on December 10 with its "Addicted to Ugly Holiday Sweaters" party at 8 p.m.

Specialty $6 cocktails such as the "Melted Snowman" and the "Turtleneck Tosser" will be available at the bar, along with bites from the adjoining David Burke's Primehouse.

Timothy O'Toole's pubs are also joining the ugly sweater craze.

The Streeterville and Gurnee locations are hosting ugly sweater parties on December 11 at 9 p.m.

Prizes, including a $200 gift card to Water Tower Place, will be given to customers with the ugliest sweaters.

10pin Bowling Lounge (330 N State St) invites its guests to eat, drink and be tacky at its ugly sweater party on Dec. 19.

The music promises to be off the hook, with DJ Million $ Mano spinning from 10 p.m.-12 a.m. and the Hey Champ DJs taking over until 2 a.m.

A trip to Jamaica is the top prize for the guest with the ugliest sweater.

And forget the high fashion the Gold Coast is known for, the tackier the better will be expected at Luxbar's Ugly Sweater Christmas Party on Dec. 19.

The customer with the ugliest sweater will receive a $250 cocktail card to Luxbar.

Sip on $5 Grey Goose martinis and work up a sweater sweat on the dance floor to the mixes of LuxLounge's all-female DJ team.

And of course you'll want to embarrass your kids with the evidence one day, so take advantage of a green screen Christmas photo booth where you can choose from a variety of backgrounds to match your holiday apparel.

Consider it a "tongue in chic" homage to the holidays.