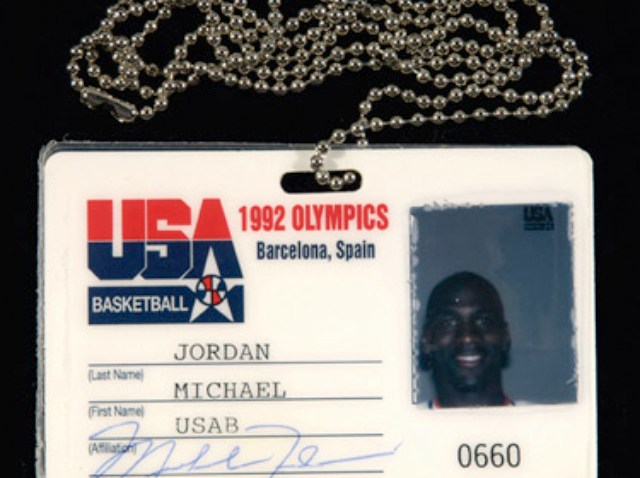 **Remember the Dream Team? Yeah, that team was awesome in the Barcelona games. As Chicago gets ready to bid for the games in 2016, everyone's on board heading to Copenhagen! Let's check out the guest list:
Mayor Richard M. Daley: check
First Lady Michelle Obama: check
President Barack Obama: not sure (probably a check)
Sect. of Education Arne Duncan: check
Oprah Winfrey: check
Michael Jordan: nope
What?!!!!
He's not going? Yup, and apparently its because his duties with the NBA's Charlotte Bobcats are too much. What a ridiculous excuse for not going. You're telling me that attempting to sign Raymond Felton to a one-year deal takes priority over our town's bid for the Games? I mean, yes, he has a huge stake in the franchise. But for someone who claims to still live in Chicago half the year, he's acting like the ghost he's been for the last decade around here. Wants nothing to do with it.
He's Chicago's most famous athlete, downgraded from most famous person after the 2008 election, but still. Jordan stood at the highest mountain top any athlete in sports could dream about. He's decorated, he's driven, his career exudes what the Olympic spirit is supposed to be about. Chasing your dream.
If you listened to his speech and sifted thru the digs at former competitors, you learned about a man who would do anything to win. But sometimes the corporate side of Michael was all we saw for decades in this town. That's the side of him that kept him from making any public stances on any issue, he was never outspoken on politics, racism or anything. Oh, he's opinionated, but he didn't want to ruin his image.
That's why he's not going to Copenhagen. It's But if Chicago lands the games in 2016, you can bet he'll be there front and center...with Nike, Gatorade, and everyone else that's handed him a check to endorse his product.
**Alright, stepping off the soap box, lets get focused. Traffic wasn't too bad today. Problem on the outbound Kennedy for some of you, but that was it. Most of the roads were lighter than normal, but with plenty of traffic to keep your attention.
**Righthand Man Jim wanted to wish his mom a happy birthday. So he got that chance at 6:35 and didn't disappoint. "She's 39," he said. I like to keep Mom in the 20's but he said she'll take it. So Nancy? Happy Birthday from the Traffic Lounge (you don't look a day older than 30!)
**The Prep Destination of the Week is Lemont. A gorgeous setting for a football game in the fall. Homecoming Week for the Indians, unbeaten and taking on the 4-0 Hillcrest Hawks. Lemont will win (I'm thinking 40-14), but don't celebrate too much boys with the dance coming up the next night. (also, make sure you don't show up right when it starts. If it starts at 8, no earlier than 8:35 should you arrive with your date, just a tip fellas).
Stop by the Pancake Cafe afterwards. Andy Avalos doesn't own it anymore, but the food's still fantastic. Tell them about the statue bit we did this morning.
**Dance Friday was a good time. Earth Wind and Fire's "September" making a 2nd appearance on the show (Sept. 5, 2008)
**Off to The Cell tonight to watch the Sox and soon-to-be AL Central Champs, the Tigers. Tomorrow I'll be at Soldier Field for the Chicago Football Classic. Have a great weekend!!