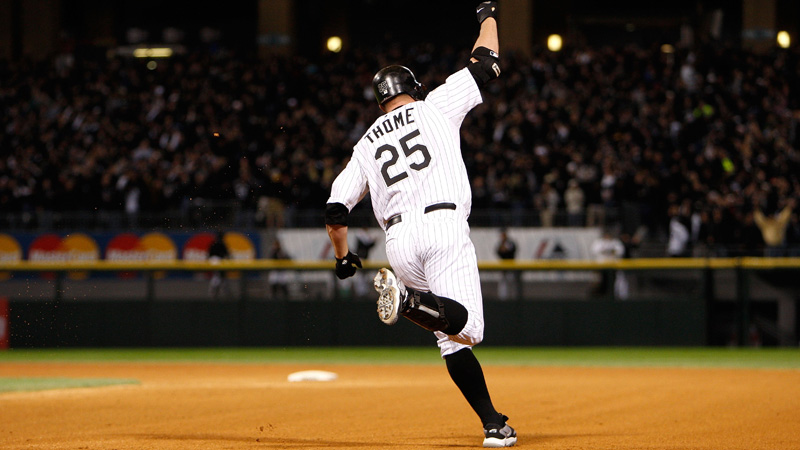 Bye-bye, Thome. So long Jose.
The White Sox traded slugger Jim Thome to the Dodgers and right-handed pitcher Jose Contreras to the Colorado Rockies Monday night as the club's playoff hopes continue to fizzle. They're 64-68 and currently six games out of first place.

In exchange for Thome and cash, the Sox got Class A infielder Justin Fuller.
Thome is batting .252 with 23 homers and 74 RBIs in his fourth season in Chicago. The five-time All-Star is 12th on the all-time home run list with 564.
His departure leaves a power hole in the middle of the Sox lineup that is unlikely to be filled by the guy they got in return.

The 24-year-old Fuller is hitting .254 with four home runs and 17 RBI in 56 games this season with Dodgers minor league club Inland Empire of the California League.
Thome reunites with former teammate Manny Ramirez who was traded to the Dodgers last year. Ramirez and Thome played for the Cleveland Indians in the '90s and have combined for 1,106 home runs during their careers.
In exchange for Contreras and cash, the Sox got 24-year-old right-handed pitcher Brandon Hynick from Colorado.

Hynick is 10-9 with a 3.83 ERA and two complete games in 26 starts this season with Class AAA Colorado Springs.

The 37-year-old Contreras is 5-13 with a 5.42 ERA and 89 strikeouts in 21 starts this season. He has seven major-league seasons with the Yankees and White Sox.
Copyright AP - Associated Press