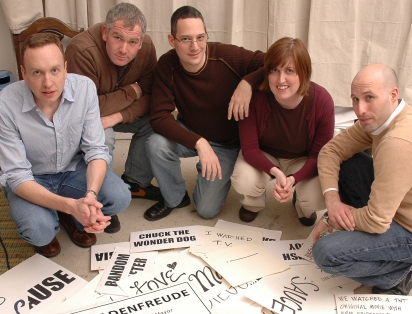 The stock market. The real estate market. High prices at the super market. The state of the nation these days is enough to make us want to throw up our hands and scream, ''This Country's F$cked!'' Well, that's precisely what Chicago sketch groups GayCo. and Schadenfreude are calling their political comedy festival at the Lakeshore Theater Oct. 18 and 25 at 8 p.m. and 11 p.m.

The festival is a take on the current election season and the issues facing the country, in part to honor the 40th anniversary of the Laff-Riot 1968 Democratic Convention.
''We felt that such a historic election deserved a historic partnership of artists to properly commemorate,'' says Justin Kaufmann, founding writer and performer with Schadenfreude, in a press release. ''We wanted to create an event that was bigger than our typical sketch shows, one that provides many different perspectives.''
The festival will feature the works of many other performers including Bassprov, Susan Messing, Ken Barnard, Mike and Duane, Blue Ribbon Glee Club, Mark Bazer, Jet & Holly, Matthew Hollis and the Power of Cheer, Claudia Wallace and Yuri Lane.
DJs Jesse De La Pena will spin his trademark sounds for an all-night party following the 11 PM shows.
Tickets for either night are $20 and are available by calling 773-472-3492 or by visiting Lakeshore Theater's Web site.