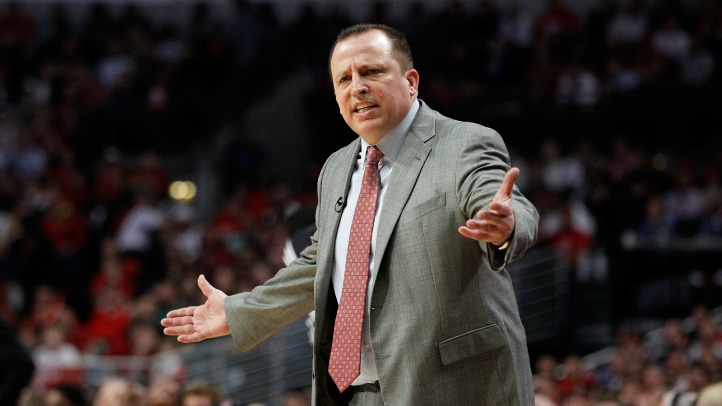 Tom Thibodeau doesn't have the reputation for being a "player's coach," but in the two years he's coached the Chicago Bulls, his players have loved playing for him. Every man on the roster was committed to his system, his defensive philosophies and to each other. As a result, the team has seen more success than they have since 1998.
Now there's a new group of players for Thibs to coach. Seven new faces to try and figure out where they can be utilized individually to help the team as a collective. And so far, the new guys have all taken to Thibodeau's coaching style and his strict attention to detail, according to the Chicago Tribune.
"It's intense. He expects you to be locked in when you come in the gym. When you're together as a team, time is valuable. So I like that," said veteran guard Kirk Hinrich.
Hinrich just missed playing for Thibodeau when he was traded in 2010, but seems to be enjoying the opportunity to play for him now.
"After being in so many different situations for different coaches, you appreciate preparation as you go along. As a younger player, you might not. You might think it's harder work or whatever. But it's nice to be in a situation where you know you're going to be prepared every day."
Preparation has been the one thing that Thibs has stressed since being named the head coach in Chicago. After being an assistant to some of the best coaches in league history – Jeff Van Gundy, Doc Rivers – Thibodeau has learned the importance of having your team practice hard and play even harder once the lights go on and it's time to play the games.
"You're striving for excellence and perfection, knowing you're not going to get to perfection," said Thibodeau. "You want to see how close you can get to it. It's important to set the bar high. Players help establish the standards you're going to have. I don't want them to be satisfied."