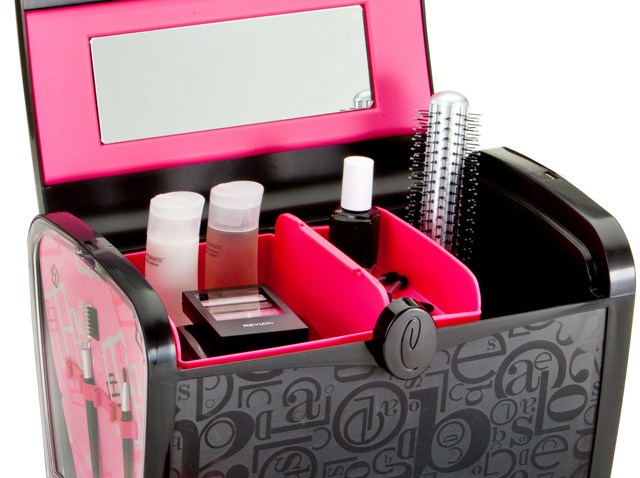 At the risk of dating ourselves, we must say we're pretty thrilled about the re-emergence of Caboodles, those gaudy cotton candy and purple-colored cosmetic case organizers.

Circa the '80s and '90s, it seemed every tween girl had one. Caboodles escorted young girls everywhere, and housed their Hard Candy nail polish, Tony & Tina sparkly eyeshadows and, of course, body glitter.

Now Caboodles are vengefully back and better than ever. Twenty-two years after it hit the late '80s scene, Caboodles is premiering their fresh new look and Web site this holiday season.

Not to mention, they recently released their first custom molded design in over ten years -- a fun, fashionable and functional line of organizers, appropriately named In My Case. As in, "In My Case -- I'm open to possibilities," or "In My Case -- beauty comes from the inside." These, my friends, are known as "Caboodle-isms."

There are infinite uses for the case, with its mounted mirror, removable side storage panels, two trays, two dividers and a whole lot of pizzazz. It's a makeup storage space for the diva, a paper clip/rubber bands/office supplies holder for the workaholic or a knick knack keeper for the packrat. To each their own.

Prices for the In My Case Caboodle range from $19.99-$26.99 and they're available at Target and Ulta. We can think of much worse ways to blow a 20.

In My Case -- we might be buying a Caboodle this holiday season. If, for nothing else, for nostalgia's sake and to support the resurgence of what was a very prominent childhood trinket. How's that for a Caboodle-ism?

Erica Bethe Levin is not happy with her makeup organizer and could use a customized Caboodle. She is, however, happy while she edits and writes for CheekyChicago.com.