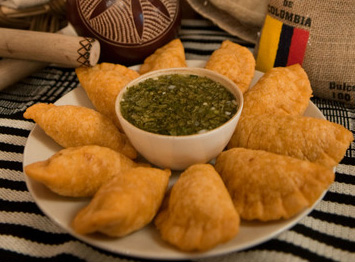 The taco has ingrained itself into's America's culinary consciousness, from the unfortunate presentation of Taco Bell, to fancier versions from the likes of Mercadito.

But Leo Suárez, the owner of the two Las Tablas restaurants in Chicago, believes the traditional stuffed turnover called an empanada has the potential to be an American food superstar.

"The empanada is the emblematic street food of Latin America," Suárez told Cafe magazine.

He's betting that Colombian culture -- the music, food and coffee -- will be just as popular as similar cultural imports from Brazil and Cuba.

He's also putting his money where his mouth is, by opening Macondo Colombian Coffee & Empanadas (2965 N. Lincoln Ave.), a concept he hopes to franchise in the future.

"The empanadas that we sell here are from the exact same recipe that my grandmother fed her family on," Suárez says.

Click here to read the entire article at Cafemagazine.com.



Check out Feast: The first word and final score on Chicago's restaurant scene, featuring videos, photos, news, commentary and the definitive Feast Rank. Sit Down to Feast Now