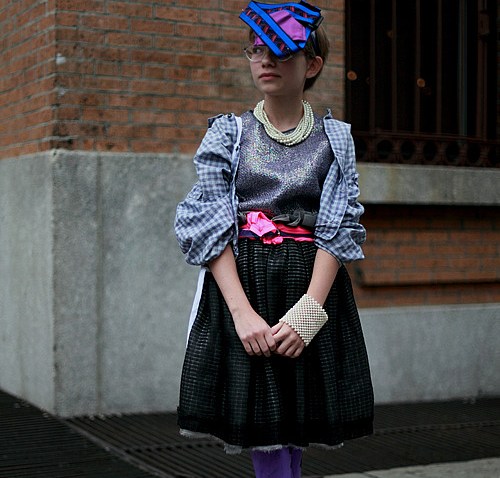 The biggest star of New York's fashion week was a 13-year-old Chicago blogger.
Tavi Gevinson -- a self-described "tiny 13-year-old dork that sits inside all day wearing awkward jackets and pretty hats" -- runs a blog that moves with tidal force -- it garners a reported 1.5 million hits per month.
The site's helped her make waves in the fashion scene too -- she's graced the cover of Dasha Zhukova's relaunched Pop magazine and is being featured in Katie Grand's Love.
Gevinson's success is a result of her smart yet simple writing style, with a balance of sophistication and youthful charm.
Imagine the intelligent critiques of a fashion-show veteran being delivered in the words of an Oh-Em-Gee, texting teenage girl. As Gevinson goes over her own notes at Fashion Week, It comes out something like this:
-"Ashish Topshop heels but AWESOME" -- Ah yes, I believe I was enthralled by the amazing animal print wedges and the power of capital letters.

-"Aviator cap zips to cape" -- Good job me, you know how to see things and spell a seven letter word.

-"Alex is more deconstructing than ever before" -- I think I wrote this so dramatically thinking I would rush out of the studio and yell "Stop the presses!" and run to a hotel in the 20's to sit down at a typewriter and write things like "...THAN EVER BEFORE!" with great gusto? Or something?

-"Cuts not as discrete and amazing as Cushnie" -- What's with this sudden load of bitterpill? Anyways, the futuristic-like cuts were not as great as those at Cushnie et Ochs, and I still think so (however, Cushnie cuts would not have been Wang-like, so this is a minor issue.)
"Tavi's amazing," Charlie Porter, deputy editor of the style journal Fantastic Man told the UK's Guardian. "She's so inquisitive, with such a sharp, curious eye."
That eye has earned Gevinson front row seats at numerous fashion shows, a position sought after by magazine editors and celebrities.
"Tavi makes you think about things differently," said Kate Mulleavy, one of the sisters behind fashion label Rodarte, "[she] makes you see things differently."
And while Gevinson is a fashion-world sensation, she is still a teenage girl with teenage issues. She has homework to do, a messy room to clean, and classmates who—for the most part—don't read her fashion blog.
"A lot of them don't get it," she said, "but some do."
You can read all of Tavi's work here.
Matt Bartosik, a "between blogs" blogger, cramps his own style.
Copyright FREEL - NBC Local Media