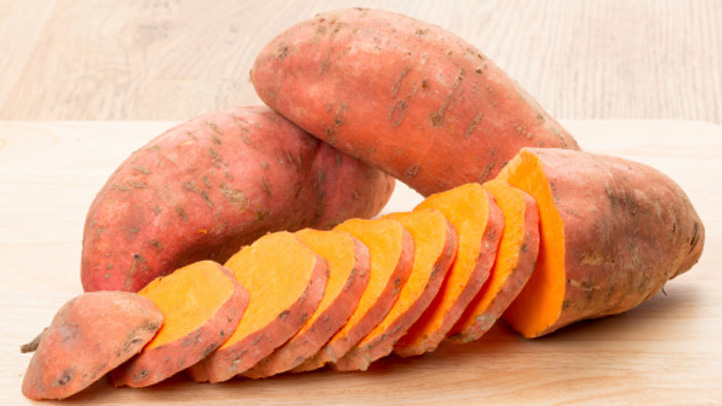 As both a vegetarian and Thanksgiving's biggest fan, I eat sweet potatoes pretty regularly. They're a great meatless main dish for me, and they go so perfectly in every annual November feast.

But I had no idea that they were chock-full of nutrients, and that they could even give me a boost on my run!
Aside from a marshmallow-covered, caramelized, and cavity-inducing casserole, these orange tubers can provide a huge health benefit if they're prepared correctly. Sweet potatoes contain Vitamin A, which contributes to better eyesight and immune function (upping your resistance to infection), and Vitamin C, a powerful antioxidant that fights the stress running puts on your body and shortens illness recovery time.
Lesser known Beta-Carotene and Manganese both have powerful effects too. Beta-Carotene protects and repairs skin from UV damage, and Manganese helps metabolize carbohydrates and keep your blood sugar at a healthy level.
Speaking of carbohydrates, one cup of mashed sweet potatoes provides 58 grams of the good stuff, making for great pre-run fuel, or for the adventurous, a mid-long run boost in place of your typical gel.
Now that you know how beneficial sweet potatoes can be, try to work them into your training diet.

Check out recipes and more detailed nutritional information at Runner's World, and let us know -- have you ever used these tubers as running fuel? How did it work for you?