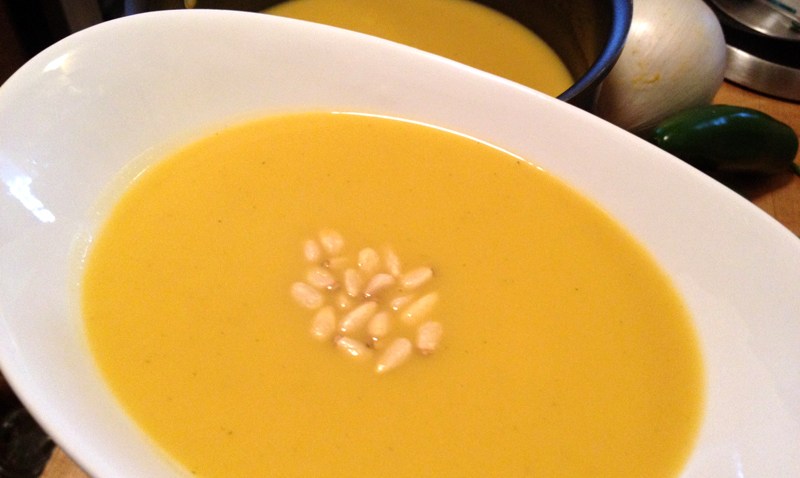 With a little fall chill in the air, this is the perfect time for soups. I've often made pumkpin soup this time of year using a recipe given to me by Anna Avalos, wife of one of NBC Chicago's meteorologists. This year I decided to experiment with a sweet potato soup using Anna's recipe as a base. This a savory soup with onions, jalapeños, garlic sage and oregano. But, I've add a little tart sweetness by blending in two granny smith apples as well. The combination is a very subtle blend of favors. For a little extra texture I added a variety of toppings just before serving. Experiment with any or all of these toppings to customize this soup to your liking.

Sweet Potato and Apple Soup
makes 3 quarts of soup

Ingredients

1 lg White Onion, Chopped
4 tbl Butter
2 Jalapeño Peppers, seeded and minced
3 Garlic Cloves, peeled and smashed
1 tbl Fresh Ginger, finely minced
2 tsp Fresh Oregano, chopped
2 tsp Fresh Sage, chopped
1 tsp Salt
1/2 tsp Pepper
2 lg Granny Smith Apples, peeled, cored and chopped
2 lb Sweet Potatoes, peeled and cubed
8 cu Chicken Stock
2 Chicken Bouillon Cubes

Garnish (optional):
3-4 strips Cooked Bacon, chopped
1/4 cu Fresh Chives, chopped
1/2 cu Pine Nuts
1 cu Croutons

Method

Melt butter in a large stockpot over medium low heat. Add onions, jalapeños and garlic and sauté until onions are translucent, about 10 minutes. Be sure temperature is low so that you aren't burning the onions or garlic. Add ginger, oregano, sage, salt and pepper, and continue to sauté for an additional 5 minutes. Add apples, stir to combine, and sauté for an additional 2 minutes. Add sweet potatoes, chicken stock and bouillon cubes. Increase heat to high to bring mixture to a boil. As soon as it reaches a boil, reduce heat back to low, cover pot and simmer for 30 minutes.

Remove from heat and allow mixture to cool slightly. Working in small batches (no more than 1/4 of the soup at a time), transfer mixture to a blender. Never fill the blender higher than 2/3 of its capacity. Starting on a low setting and increasing to high, blend the mixture until smooth, about 1 minute. Be very careful with the hot mixture. Even a blender 2/3 full can can push off the top (I usually cover the top with a dish towel and hold it in place when starting the machine). Transfer blended soup to another pot and repeat with the remaining mixture. Check the texture of the soup. If you'd like it smoother, press the entire batch through a fine sieve.

Reheat mixture and then ladle into serving bowls. Garish each bowl with one or more of the toppings detailed above.

If you have any comments or questions, please send me an email at wayne@waynesweekend.com or follow me on Facebook or Twitter.