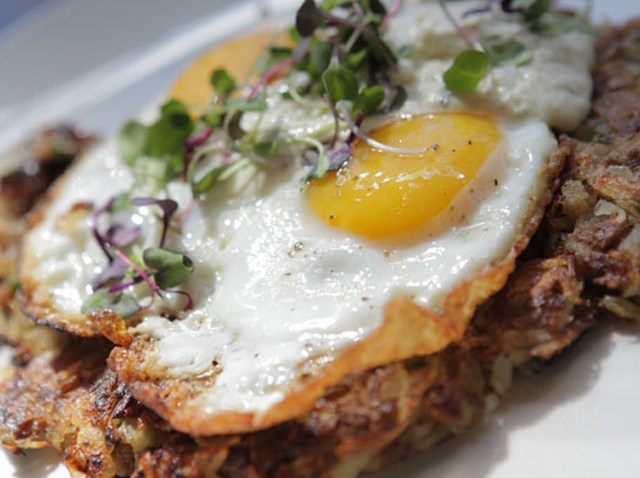 You've gotta give props to Sunda.

Their first-ever day for brunch service is Mother's Day. Mother's Day?! Ask anyone in the restaurant biz and they'll tell you that's the single busiest day of the year.

Nevertheless, Executive Chef Rodelio Aglibot's whipped up a number of classic Asian dishes -- with serious contemporary swagger -- that should impress even the most discerning mom.

You'll want to fill up on dim sum starters like oxtail pot stickers accompanied by white wasabi creme or the steamed bao buns (filled with pork belly or duck), but resist because there's so much more to come.

Hearty portions are meant to be shared. And if you love egg dishes, you've come to the right spot. Standouts include the Thai omelet (filled with shrimp, pork, fish cake, beans sprouts, watercress, chili); braised pork belly and poached eggs on crispy rice patties; and the Pancit Canton, made with crispy pork, lap cheong, shrimp, carrots, cabbage and egg noodles. Plus, those with a sweet tooth are sure to fall for the Tempura French Toast Batons topped with caramel glazed bananas.

Our favorite part of the brunch -- and this shouldn't come as a surprise -- is the cocktail selection. Choose from the Bloody Mary Bar ($7), where you'll get to build your drink from a number of traditional and Asian garnishes (kim chee, BBQ eel, shrimp), and Mimosa Kits (starts at $30) that come with a bottle of bubbly and fresh seasonal juices.

Brunch is served 10:30am-3pm Sundays. Entrees range $10-$14.

Click here to view the full brunch menu.

Audarshia Townsend is the creator of the local food blog 312DiningDiva.com. She also provides content for Dining Chicago and Playboy.com.