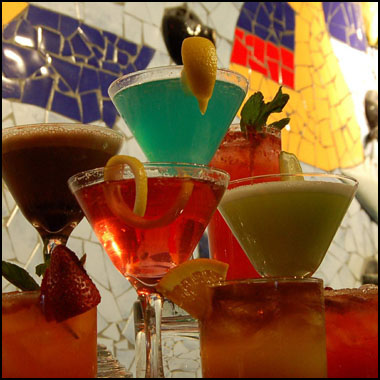 We've had a taste of summer weather, and the good news is: there is more on the way. Instead of the mad scramble to grab a couple of beers at any old pub that has a few chairs along the sidewalk, plan ahead to sip a refreshing summer cocktail on a lovely outdoor patio. Here are a few places with ample outdoor seating and unique new cocktails to do the alfresco drinking justice.
Sip a Key Lime Melontini made from Keke Beach key lime liqueur, Malibu coconut rum, Midori and pineapple juice ($8.50) at Tapas Valencia (1530 S. State St., 312-842-4444). Their outdoor patio seats 24.
Who needs Romeo when you've got Juliette, a drink made from Crop organic cucumber vodka, lemon, sugar and Midori ($10). Available at Brasserie Jo (59 W. Hubbard St., 312-595-0800), which has a 20-seat outdoor terrace that allows dogs.
It's summer time. Time to Rock you Like a Sugarcane ($12) as the drink's name suggests. It's made with Le Blon Cachaça, orange marmalade, homemade sour mix and a dehydrated orange wheel and is available at Tavern at the Park (130 E. Randolph St., 312-552-0070). The outdoor patio seats 32.

Spice it up with the signature Carnivale margarita, a concoction of Sauza Hornitos, Cointreau and freshly squeezed lime juice ($9). The outdoor dining area of Carnivale (702 W. Fulton St., 312-850-5005) seats 30 and is open for lunch and dinner.