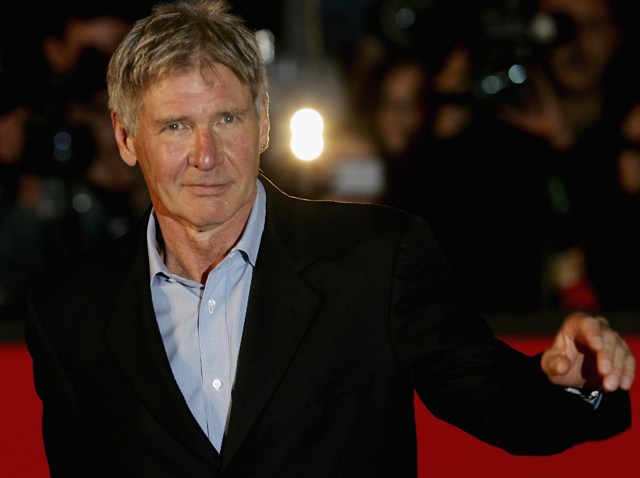 Judging by the last few weeks that celebs have been in town, all they really like to do in Chicago is eat. To wit, check out this week's star activity.
And right before his little
hissy fit
regarding fans and autographs at his Chicago premiere, A-lister
Harrison Ford
was spotted dining at
Cafe Spiaggia
with two friends. Onlookers saw Ford and clan dining on two courses each, including Ford's choice of the tagliatelle with braised duck and poached egg. Ford proceeded to dazzle the staff about his knowledge of Sicilian wines, shortly followed by the consumption of two bottles of wine. And perhaps the most impressive part, he enjoyed his meal while wearing a purple sweater with a studded earring to match. Um, nice.
Also seen at Cafe Spiaggia the same evening was
Mayor Richard Daley
, dining with a group of friends. The Mayor kept warm with a Tuscan bean soup. No word on whether any words were exchanged, especially since the two would soon engage in a
media war of words
over the Daley administration's decision to close the lakefront airport Meigs Field.
Bistro 110
frequent diner
Jerry Springer
was spotted having lunch at the French restaurant last week, but without any company. Jerry sat solo at a corner table and enjoyed the house signature French Onion Soup, Beet & Chicken salad and a Coke. He was reading "Speech-Less", the new book by Matt Latimer, the former speech writer for the Bush administration.
Bull's point guard
Derrick Rose
came into
Market
this past weekend with 2 guys and a lady. He ordered two servings of Popcorn Shrimp, Cotton Candy for dessert, and washed it down with a Grape Kool Aid specialty cocktail while watching Sportscenter on the bar's TV's. Somehow that combo makes us nauseous, but nothing pays homage to childhood like grape Kool Aid, so props to the boy wonder for keepin' it real.
View
Star Maps: Jan. 18, 2009
in a larger map