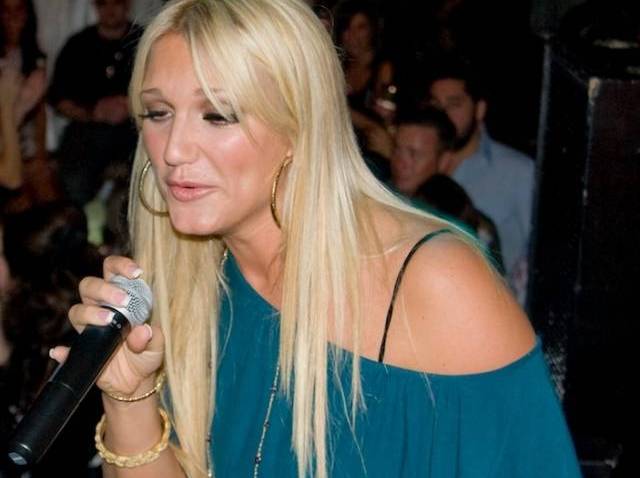 When celebs roll into town, we usually know well in advance. Either they are doing an endorsed appearance that they promote the hell out of, or they're shooting Oprah's show.
Which is why everyone was surprised when The Hulk's daughter, Brooke Hogan, rolled into town Friday -- and straight to the club. Bystanders say she entertained Enclave with an impromptu, drunken 2 a.m. performance inside the bar. According to a witness, she was in an utter state of drunken hot-mess, dancing like crazy, stumbling around and singing off key, and making out with her boo, rapper Stack$, who's significantly smaller than she is -- much like 99 percent of the rest of the populace. Memo to Brooke -- joints like Enclave will actually PAY you to come in and act crazy.
On a more sophisticated side of town, former President Bill Clinton grabbed a bite at Table Fifty-Two while in town for the big Chicago House fund-raiser. Did he get the reco from President Obama, who is a big fan? Or maybe it's a case of copy cat? Presidents will be presidents.
Vince Vaughn attended the Blackhawks game Wednesday, then dined at Rockit when he was in town. Is it just us or can this boy not get enough of Chicago? LA's tofu scrambles aren't doing it for him.
And, just in case you were looking to increase your selection of celebrity-endorsed perfume, it was your lucky day. Rapper 50 Cent, a.k.a Curtis Jackson, showed off his new scent "Power by 50 Cent" at Macy's last week. Later he was seen popping into the Dana Hotel to chillax.
Jesse Metcalf attended Le Passage's Anniversary Celebration last weekend with his girlfriend, Cara Santana. Nothing calms a pack of wild ladies like a girlfriend showing up in the equation.
Reality star Brody Jenner seems to building up the benjamins in the bank, considering his love for doing paid celebrity appearances. ''The Hills'' reality star came back in town to swoon more ladies while hosting "Girls Night Out" at Enclave, where Jenner encouraged everyone to don their favorite Little Black Dresses. What were the stipulations, the less fabric, the better? Sounds about right.
View
Star Maps: Nov. 16, 2009
in a larger map