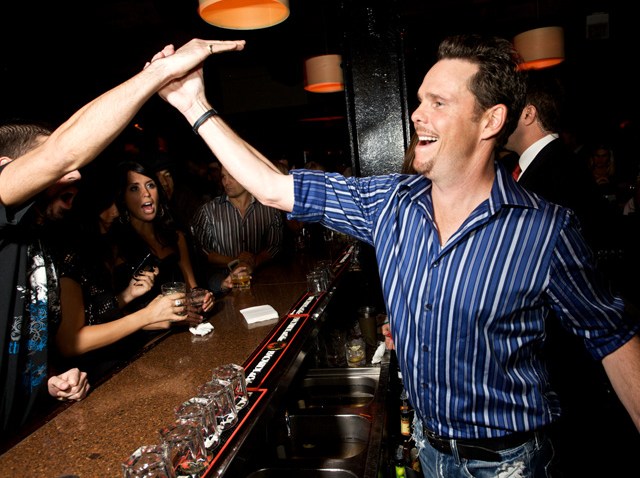 Kevin Dillon partied it up sans his official Entourage costars at Enclave on Friday. But apparently some of them were in town, they just chose not to hang out with each other. Long hours on the set there, fellas?
Across town, slimester extraordinaire
Jeremy Piven
was seen closing down Crimson Lounge that same night. The following evening he called sloppy seconds for Cuvee the night after Dillon. Jana Kraner, a recent addition to the Entourage cast, was also seen at Cuvee with girlfriends. Piven and Kramer said "hi" and were friendly, but each kept their distance. C'mon guys, you know how it is; when you spend all day with your co-workers, do you really want to spend all night with them? No, not unless you're having a steamy office affair.
On another note
Michael Kors
was in town for the debut of his
Michael Kors Collection store at The 900 Shops
. We're wondering how many people are going to come into the store thinking it's still Stuart Weitzman and will end up legitimately pissed off they can't purchase their pre-planned stiletto and sequin boots.
Diane Von Furstenburg was also in town for the launch of her cruise/pre-spring 2010 collection at
Neiman Marcus
. Little does she know that we're so bitter about the upcoming winter weather that the last thing we are thinking about is fitting out pale booties in some stretchy curve-hugging spring colors. As if.
Gavin Rossdale rolled into town for a Dare 2 Dream concert at House of Blues. Afterwards, he
partied it up at The Underground
with none other than Jillian Harris and Ed Swiderski. Random? Yes. Entertaining? Hell yes. Oh, and Jill and Ed dined at Sunda -- again. Big shocker.
Desperate Housewives "hottie" Jesse Metcalf threw a party at Le Passage this weekend. Apparently this was the week for paid appearances at nightclub.
Finally, moms everywhere were overjoyed to discover that
Oprah and Ellen Degeneres
hit Water Tower Park to sign copies of the December issue of O Magazine on Friday.
What a week.

View
Star Maps 11/9
in a larger map