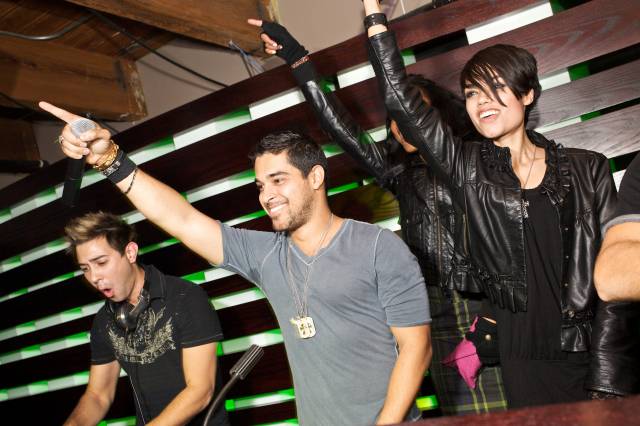 Last week the ladies were cavorting about town, but this week, the boys were on view. We saw the likes of Nick Cannon, David Schwimmer and Wilmer Valderrama.
A ragged-looking David Schwimmer was seen brunching at Rockit Bar and Grill Saturday. Not sure if he was hungover or depressed that he is no longer an A-lister, but he was lookin' a little stressed. Comfort food came to the rescue though- he downed an order of fries and seemed much happier.
Lindsay Lohan kept her distance from Chicago this weekend, but her ex Wilder Valderrama (from back when she liked guys) hosted a Sweetest Day party at Enclave. Apparently, brunettes do it for him. He was seen with two brown-haired hotties all night, in between slamming patron and flirting with all the other ladies in the bar who wanted a piece of the (pint-sized) Valderama empire. Then he headed to Cuvee where he called it a night at 5 a.m.
Nick Cannon may have been without wifey Mariah Carey this weekend, but she still had his leash well attached as he DJ'ed at RiNo. Cannon played multiple Mariah Carey songs throughout the night even though there were broads left and right trying to make their move. We're guessing Mariah must be good in the sack.
And Jillian Harris continued to bounce around town this week. The jobless reality star was seen shopping at Bloomingdales Home and Furniture, gnoshing with friends at Hub 51, and pissing off fans at the Blackhawks game Wednesday evening. All in a day's
work.