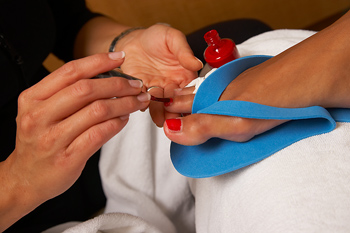 We may be able to go for long periods of time without a bikini wax or pedicure in winter, but when it comes to those warmer summer months, we need to be ready to show off skin at a moment's notice. And the Spa at the Dana Hotel is helping us get motivated to get those summer spa essential treatments done, with its new special summer promotions and treatments.
You won't have to think twice about putting on a bikini or baring your feet in open-toed shoes thanks to the spa's waxing and pedi specials. Book a full leg wax and receive a complimentary bikini wax, or upgrade to a Brazilian for $20 for those super brave souls.
Then get your feet in fancy shape with the pineapple mango manicure and pedicure. If you book them together, you score 10 percent off.
And, for the ultimate summer skin, get thee to the Dana for their new face and back duo -- a mini back treatment that nourishes and hydrates your normally-neglected back, combined with a signature customized facial that gives you a glowing look to your face.
Looks like we have no more excuses to not show off some skin.