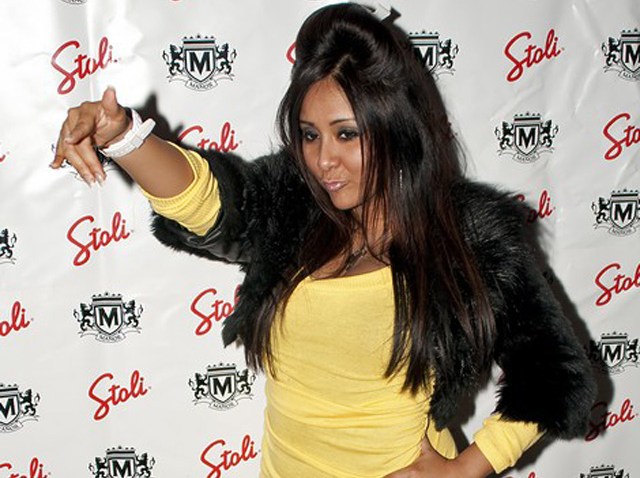 View pictures from Snooki's appearance.
Nicole "Snooki" Polizzi was on a mission Friday to show the Chicago nightlife set how they do it on the Jersey Shore.

The "Jersey Shore" star squeezed in a visit to Manor nightclub before flying to Miami for the Super Bowl this weekend, and only hours after she was booed at the Wing Bowl in Philadelphia. But Snooki was still going strong, sipping cherry vodka cocktails in the VIP section with her mom, Helen, discussing her whirlwind rise to fame and the art of the poof.

Why would anyone boo you?
I guess they boo a lot of people there. They booed Santa, they boo celebrities that walk out. I didn't know that, and my New York side came out and I gave them the finger. They explained it to me later and I felt bad, so I apologized on my Twitter. I don't want there to be any hard feelings because I have a couple of appearances there in a couple of weeks.

You seem to be the most popular person on the show. Why do you think that is?
A lot of people can relate to me because I'm not fake at all. I get drunk I hook up, I say whatever the hell I want. I pretty much say what people are thinking.

Has the show matured you at all?
Yeah I've matured, but that doesn't mean I'm going to stop partying.

You brought your mother to Chicago with you. What's it like to hang out with your mom in a club?
I just wanted to show her how my life is, because she's always like "why don't you call me on the road?" So I brought her out for a couple of days. We flew from L.A., Philly to Chicago in one day, so now she knows why I can't call her. Now she won't bug me.

So you've got to behave a little bit then while she's here?
I won't hook up with a man. But I'll still get drunk a lot.

(To mother) What was you're reaction when you first saw Snooki's behavior on the show?
(Helen) I was speechless. I couldn't believe it.
(Snooki) I warned her beforehand that it wasn't going to be pretty.

What's the secret to getting a good poof?
Don't use a bump-it. I'm actually getting my own line of stuff. It's called the Snook-It. But all you have to do it tease, hairspray the hell out of that sh#t, and put it up in a clip.

Where's season two going to be held?
Still not sure, but it's going to be somewhere warm, either South Beach or maybe out of the country, but I'd prefer to go to Miami.

Out of the country sounds dangerous. We wouldn't want to cause an international incident.
I'm not out to hurt anybody. All I do is get drunk and party.