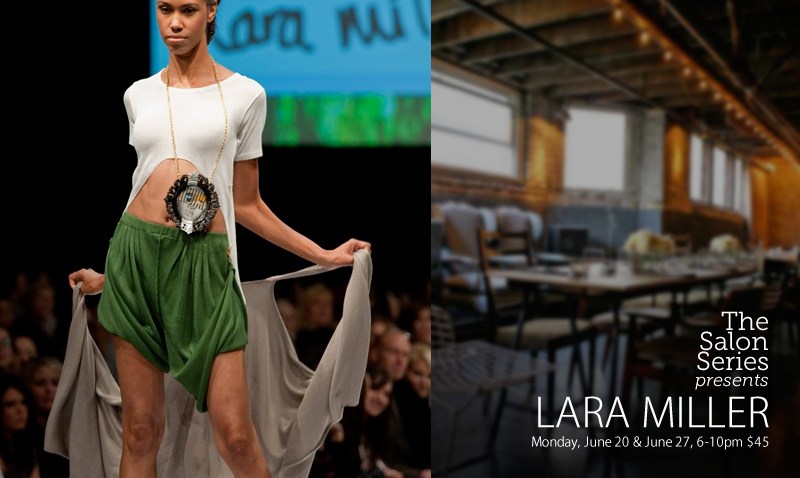 The next two Mondays are suddenly looking up. That's because the Salon Series—a weekly program that features an artist, conversation, and food, reminiscent of the post-war Paris salon of literary yore—has wrangled local eco-fashion darling Lara Miller as the artist, and locavore-foodie-favorite City Provisions for the food.
Lara Miller, who's also the director of the Chicago Fashion Incubator, champions sustainable design in the form of sophisticated, versatile women's clothes. Find out more about her process during an hour-long trunk show, then get 30 percent off special orders from her 2011 hand-loomed collection. Or just get instant gratification in the form of a one-of-a-kind bamboo/organic scarf that's hand-silkscreened with Miller and JC Steinbrunner sketches.
After, City Provisions' Cleetus Friedman will talk through the green practices that informed the food you'll be enjoying, from portabello sopas to bison meatballs, made with organic, locally sourced ingredients. Plus: wine and champagne from Webster's Wine Bar will be on hand.
Monday night never looked so good.
WHAT: Salon Series with Lara Miller and City Provisions
WHEN: Monday, June 20, 6-10 p.m.; Monday, June 27, 6-10 p.m.
WHERE: 931 W. Cornelia Ave., #1b
TICKETS: Reservations required. Available online, $45 ($80 for ticket plus scarf).
Related stories on The Feast:
Top 20 Eco Styles Around the Country
Go-To Chicago Spots for Eco-Friendly Threads
Get Bianca Alexander's Eco-Chic Look