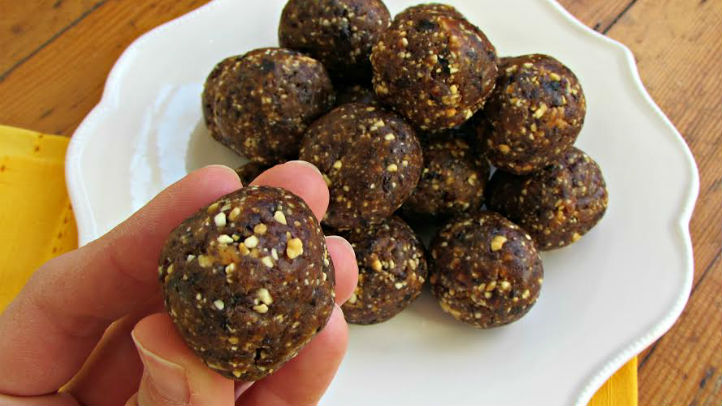 For runners, it's crucial to fuel up before and after a workout, especially for long training runs. Healthy snacks that are rich in protein and healthy fats are key, and if they are easy to eat on the go, that's even better.
This recipe for PB&J bites has everything a runner needs for a healthy and nourishing snack before or after a run, and it incorporates flavors that we all know and love -- peanut butter and jelly. This particular recipe was inspired by Larabar.
PB&J energy bites are easy to make at home and require no cooking. All you need is a food processor and a few ingredients. For a snack without added sugars, use unsalted dry-roasted peanuts and unsweetened peanut butter.
PB&J Energy Bites
Makes 18 to 20 bites.
Ingredients
16 Medjool dates (pitted)
2/3 cup dried cherries
1 cup raw dry-roasted peanuts
4 teaspoons peanut butter (unsweetened)
Instructions
Chop dates in half. Add dates, cherries and peanuts to a food processor. Depending on the size of your food processor, you may need to process in separate batches. I split this recipe in half to ensure even distribution of the ingredients.
Process the mixture a few times. Stop the processor and use a spatula to re-combine if needed.
Add peanut butter and continue processing for about 20 seconds. Keep processing, using the "pulse" function until the ingredients are evenly combined.
Remove the mixture from the food processor and form into balls. I used a medium-sized cookie scoop to ensure even sizing for each bite.
Refrigerate for 30 minutes to harden. Keep refrigerated in a covered container. The bites should last cooled for up to one week.
You can easily adapt this recipe to include many different flavors. An alternative recipe could include raw almonds, almond butter and dried blueberries, for example.
Celia Johnson is a local runner and blogger for Chicago Jogger. Follow her on Twitter, Pinterest and Instagram. Find more recipes from Celia for Healthy Pumpkin Spice Bites and Chocolate Strawberry Coconut Energy Bites.