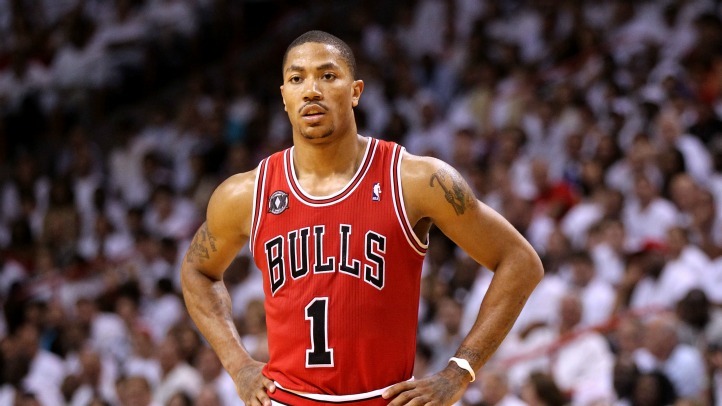 Derrick Rose's knee might be the most talked-about injury in professional sports history. (Sorry, Adrian Peterson.)
Since tearing his ACL on April 28, there have been discussions on everything from whether Rose will ever be the same and where he is in his rehab to if he will come back, should he come back and if he'll miss the entire season. It's a never-ending news cycle that will continue until he walks back onto the court donning his No. 1 jersey.
On Wednesday, stories circulated about Rose himself acknowledging he could miss the entire 2012-13 season. Were those comments ominous or merely innocent? A number of reports over the summer said he's ahead of schedule.
Dr. Brian Cole said in May that Rose could miss anywhere from eight to 12 months. Jerry Reinsdorf has said he won't allow his franchise player to compete again until a physician is ready to put his reputation on the line by clearing him. And there have been a number of opinions suggesting the Bulls will be bad anyway, so Rose shouldn't try and come back this season at all.
For his part, D. Rose has said a number of times that he doesn't even know when he'll be back. But realistically speaking, only two things could sideline him for the entire year: a setback in rehab or the crippling mental fear of re-injury.
Rose is jumping again and taking part in some basketball-related activities on the court, but what he has yet to do is start cutting, something he's openly acknowledged being afraid of.

However, it's reasonable to assume that once he feels confident in making his signature direction changes, Rose will have cleared his final hurdle, and the remainder of his rehab will be focused on strengthening his mental confidence, trusting his body and, yes, waiting for a doctor's "return to work" notice.
So could D. Rose miss the regular season? Yes, he could. But even if that is the worst case scenario, that timetable puts him back on the court in time for the NBA's most important "season," the playoffs.