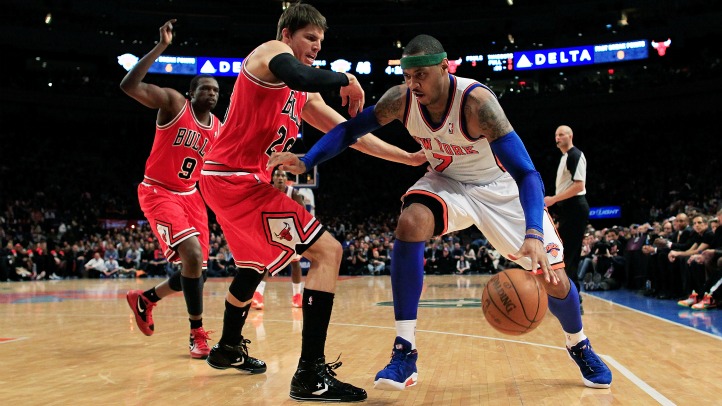 After a day to think about what went wrong in Madison Square Garden on Sunday, the Bulls are a little more than 12 hours away from their rematch with the Knicks. But this time, they'll have the support of the raucous United Center crowd behind them.
Derrick Rose's first game back was a disappointment, but the Bulls showed a lot of fight and resolve after being down by as many as 21 points in the game. They fought back, had a lead and could've won the game, but poor free-throw shooting ultimately did them in. Even though they didn't get the win, victory was still within their grasps considering how poorly they played.
That's a positive in itself and showed why Chicago has the best road record in the NBA (21-8).
The Knicks, in a battle with the Milwaukee Bucks for the 8th and final seed in the Playoffs as of Sunday, went out and played like their backs were against the wall, as they should have. The win over Chicago – combined with losses by the Bucks and current slide of the Philadelphia 76ers – vaulted New York into 7th in the Eastern Conference standings, giving them a little breathing room.
Here are some things to keep an eye on when the Bulls and Knicks tip-off tonight at 8:30 p.m.:
Derrick Rose vs Iman Shumpert
It's not often that an opposing player gets the best of D. Rose, but a look at Derrick's stat line shows how effective Shumpert's non-stop ball pressure was. He helped cause Rose to turn the ball over eight times, twice with the outcome of the game hanging in the balance. But look for Rose to be the aggressor tonight and turn the tables on the Oak Park native. Derrick has never been one to back down from a challenge and tonight should be no different.
Carmelo Anthony vs Chicago's Power Forwards
With Amar'e Stoudemire sidelined, interim Head Coach Mike Woodson made the brilliant decision of moving Carmelo Anthony from the perimeter to the post. From there, Melo could take advantage of mismatches against the Bulls bigs. Tom Thibodeau tried his best to keep Luol Deng on him at all times, but there were times when that defensive switch created confusion for Chicago which led to Anthony having his best game in a Knicks uniform, scoring 43 points. The Bulls must counter by going to Carlos Boozer early and often in the post offensively and try to draw fouls against Anthony who has never had the reputation for being a good defender.
Both teams need to win tonight as Chicago fights to hold on to the top spot in the East and New York continues to battle with the Bucks and Sixers for Playoff position at the bottom.