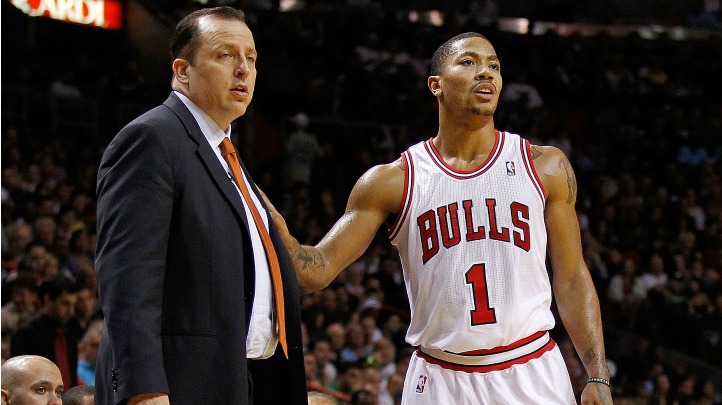 The biggest news to come out of Monday's Chicago Bulls media day was the announcement that the team had signed a contract extension with head coach Tom Thibodeau that will keep him on the sidelines for the next four years. Terms of the deal were not disclosed.

Thibs' contract situation was one of the key question marks heading into the season and apparently, not wanting to make it a distraction any longer, the team thought it best to get a deal done.

"I was never concerned about it because of my relationship with Jerry [Reinsdorf]," Thibodeau told NBC Chicago with regard to his mindset during the negotiation process. "I felt that it would work itself out because Jerry has treated me great since the first day that I got here and I just looked at it that way."

Thibodeau has been the most successful coach the Bulls have had since Phil Jackson, but there were points over the last few months where it appeared that a deal wouldn't get done. Despite an Eastern Conference Finals appearance and the Bulls finishing with the best record in the NBA for two consecutive seasons, it seemed Thibs was going to enter the 2012-13 campaign not only as a lame duck, but coaching to keep his job.

Many of the players were happy to hear that a deal had been finalized, especially Derrick Rose who seemed genuinely surprised when he was told during his turn at the podium for media day. Rose has long been an ardent supporter of Thibodeau and was happy that he'll continue to have an opportunity to play for him.

"It's great to know that he finally got his deal done," said Rose. "I don't know if he's been thinking about it -- he hasn't said anything to me -- I'm just happy that he's my coach for 'X' number of years. He's a guy that we need around this organization. He's pushing everyone in the entire organization to want to be better and he's pushing this organization to win a championship."

Thibodeau himself was happy to get the contract situation out of the way and praised everyone in the organization, from the front office, to the players.

"The big thing is being with not only Jerry, but John [Paxson] and Gar [Forman]. I'm fortunate to have Derrick, a superstar that's extremely coachable and the other leaders of the team, the other captains, are the same way.

"When you look at Carlos [Boozer], Joakim [Noah] and Luol [Deng], those are your best players, they have a shared vision, they're coachable and they play to win. They all play for each other and you can't ask anything more of a team. And of course, Chicago is a great city, so I'm thrilled to be here."