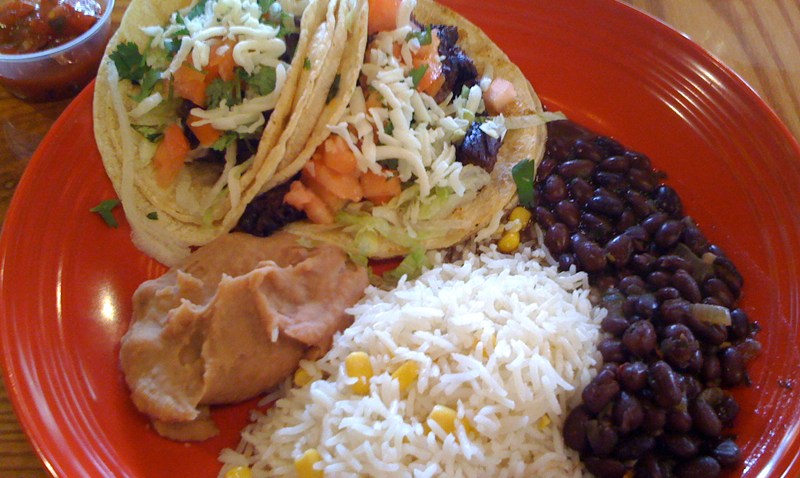 Tucked under the rumbling CTA Red Line at Wilson Avenue, Rokito's Streetside Mexican Kitchen has just opened against a number of odds.

This a neighborhood celebrating positive growth in the form of a new Target store just down the street, yet also stressing over the violence in the form of gang related gunfire just blocks away. This new eatery is a fresh tilt toward the positive in this ever-changing patchwork quilt of socioeconomics that is Uptown.

Owners Rocky Barocco Alicea and Joe and Steve Esposito have made a commitment to making a difference in the area. Rocky, who originally moved to Uptown when his family relocated from Philadelphia, likens the Uptown area to Harlem in New York, and he's happy to play a part in what he calls a new renaissance on Chicago's north side.

Rather than being a generic food stand with plain walls and basic taco and burrito food service, Rokito's is artsy and welcoming both inside and out with a diverse menu crafted for four key day parts. The prices were also set to make the food accessible to everyone in the neighborhood. Mexican coffee and breakfast burritos greet morning commuters at 7AM on weekdays. A lunch menu caters to the busy schedules of students at nearby Truman College. At night, with commuters that are heading home in mind, full dinners are prepared for both dining in and carryout. A late night "window service only" menu is available for folks looking for a light, or not so light, bite on their way home from a night out. Just for those late-nighters, Rokito's is open on Friday and Saturday until 2AM. The restaurant also offers an after midnight $1.50 taco special and Rocky says patrons are usually lined up at 12:01AM.

From the expected standards like beef, pork and chicken tacos, to fish tacos with homemade salsa, empañadas and full steak, pork and chicken dinners, all meals are made to order. Food is crafted in the open kitchen right alongside an outside window to demonstrate the fresh preparation and to further reinforce the street food concept. Orders are relatively quick but are prepared without sacrificing quality or flavor.

Rocky, who has designed restaurants and nightclubs in the city, wanted to create a space that greets the diverse Uptown community head on. "We doubled the size of the windows and opened them up when weather's good to foster social interaction between patrons dining inside with those on the patio", he says. Artist Randy Pestka, who's done work for Rocky in the past, is responsible for the very graphic and colorful art and murals that adorn both the inside and outside walls of the restaurant.

It's clear you're in the heart of an urban environment. With the Red Line coming through every 10 minutes, the thunderous sound brings memories of being at an amusement park waiting in line for the roller coaster. Wilson Avenue is seemingly busy all the time with commuters, students, a few folks a bit down on their luck, and even the pigeon lady, who feeds the flock right across the street and near the "please don't feed the pigeon" sign. The nearby Wilson and Broadway intersection was also the scene of an afternoon shooting a little over a year ago. With all of this and a few other vacant buildings nearby, including the main structure under the Wilson 'L', it had to be a risky decision to open a business in a somewhat challenging area. The new Target store has been good for neighborhood, but the recent gang related violence has put a blemish on efforts toward that positive growth. Still, Alicea and the Esposito Brothers felt this was the place to be. With the support of James Cappleman, the 46th Ward's new alderman, they've made a comment to the neighborhood and welcome everyone through their doors.

Much like the Uptown neighborhood, Rokito's is quite diverse. The owners bring both a Mexican and Italian influence to the place and the staff, which includes Truman college students and local Uptown residents, bring almost as many ethnicities and language skills as are spoken in the neighborhood.

It all makes for a nice mix in a part of the city that is ready for it. So if you find yourself on the Red Line pulling into the Wilson Avenue station, now you know there's a little street side restaurant just steps below.

Rokito's Streetside Kitchen is at 1111 W. Wilson Avenue, right under the Red Line 'L' tracks. Phone: 773.561.5500

If you have any questions or comments, please send me an email at wayne@waynesweekend.com or follow me on Facebook.