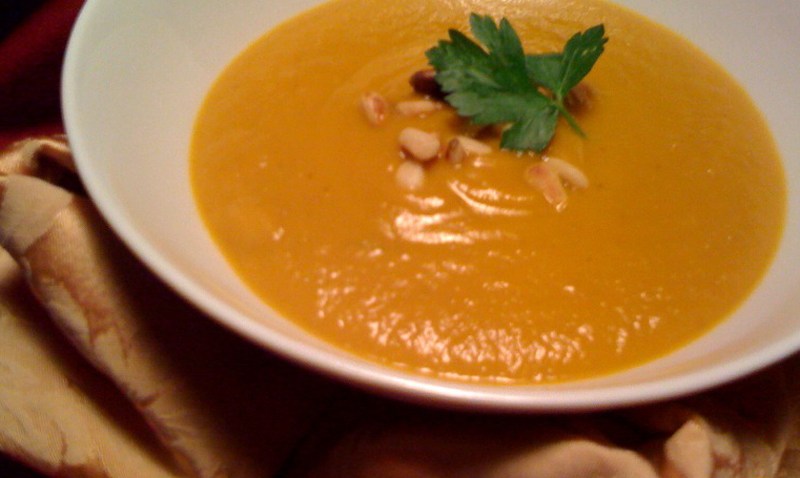 This is the perfect time of year for a hearty soup to take the edge off of the fall chill. My roasted root vegetable soup combines parsnips, sweet potatoes and turnips with a little sweetness from a granny smith apple and a little kick from a jalapeño pepper. The flavors blend together in a smooth puree that's thick and rich with flavor yet very low in calories. You can enjoy it as is or add smoked turkey and sautéed leeks for a little more filling dish.

Roasted Root Vegetable Soup
six 1-1/4 cup servings

Ingredients

1 lg Onion, peeled and quartered
1 Carrot, peeled and chopped into 1" pieces
1/2 lb Parsnips, peeled split and cut into 1" pieces
1 lg Sweet Potato, peeled, halved and quartered
1 lg Granny Smith Apple, peeled, cored and quartered
1 Celery Stalk, cut into 1" pieces
1/2 lb Turnips, tops and bottoms cut off, halved and quartered
1 Jalapeño, stem removed and split (include seeds for extra heat)
1 tbl Fresh Rosemary, finely chopped
1/2 tsp Salt
1/4 tsp Pepper
Cooking Spray
4-1/2 cu Fat Free Chicken Stock
Flat Leaf Parsly, roughly chopped for garnish
6 tsp Pine Nuts, roasted, optional for garnish

Optional for a heartier soup:
1 Leek, split and thinly sliced (white parts only)
1 -1/4 lb Smoked Turkey Breast, cut into 1/2" chunks
1 tbl Olive Oil

Method

Preheat oven to 300 degrees. Place first 8 ingredients on a baking sheet. Sprinkle rosemary on top. Spray for about 2 seconds with cooking spray and toss to combine. Season with salt and pepper and place in the oven for 1 hour. Gently mix ingredients around once or twice during the roasting process.

Remove roasted items from the oven and transfer to a large saucepan or stockpot. Add chicken stock over high heat and bring to a boil. Reduce heat to low and simmer for 20 minutes. Remove from heat and puree ingredients in a blender in small batches. BE CAREFUL when using the blender with hot ingredients. Definitely puree in small batches, starting on a low speed and then increasing. Cover the top of the blender with a dishtowel for further protection.

Return pureed soup to a pot and keep warm until ready to serve.. For roasted pine nuts, simply place nuts in a dry skillet and shake pan over medium heat until pine nuts begin to brown. Remove from heat immediately or nuts will quickly burn.

One serving of this soup (about 1-1/4 cup) is 157 calories with 1 teaspoon of pine nuts.

For an even heartier version of the soup, sauté the leeks in olive oil until tender. Add turkey and toss until turkey is heated through. Divide among six serving bowls and pour soup on top. Add pine nuts and parsley. This combination is 277 calories per serving.

If you have any questions or comments, please send me an email at wayne@waynesweekend.com or follow me on facebook or twitter.