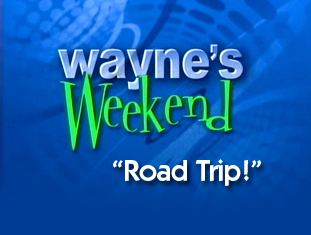 I'm still getting a number of wonderful suggestions from my facebook friends for segment ideas. This request for "Road Trip" tips came from Shelia Fahey Wallenius and I thought is was a great idea.

There's still plenty of summer left to get out on the road with family and friends and enjoy a little vacation or simply a weekend getaway. Knowing what to take along will help make the trip a lot easier and more enjoyable. Here are a number of ideas that I think you'll find useful.

Make A Checklist

I have a tendency to forget a few things or two once I'm just far enough away from the house that I don't want to go back and retrace my steps. The best way to avoid that is to start a checklist a few days before your trip and just keep adding to it. Then, on the day of the trip, you'll be sure you've packed everything you need. I actually email my list to myself before the trip and review it on my smart phone. It helps when I'm in the store shopping for items.

Bring Healthy Snacks

Simple things like fresh fruit, celery and carrot sticks are healthy, travel well and are relative inexpensive. My homemade cereal bars with rolled oats, coconut, peanut butter and honey are also a hit and the recipe is below.

Bring Handy Snacks

Bring food items that are easy to eat in the car with one hand so you aren't making a mess. In addition to the fresh produce items mentioned above, I'll sometimes get salami sticks from my local butcher or, as we did way back when I was a kid, have peeled boiled eggs available. I also make a few different types of sandwich roll ups and wrap them individually. From peanut butter and jelly to smoked chicken and roasted red pepper, you usually won't get any complaints. The recipe for the chicken roll ups is down below.

Freeze A Few Snacks
suggested, in part, by Ida Waterous

Blueberries and seedless grapes are great foods to freeze as is. If you simply wash them, remove all excess stems and then let them air dry on a paper towel, they are ready to go in the freezer. Lay them on a sheet of wax paper in a single layer and freeze away. Once frozen, you can put them in a plastic container and have them frozen or slightly thawed. They are tasty either way.

Be Economical With Individual Servings

Take advantage of buying things in bulk but break them down for traveling. I will often buy large bags of chips and then put single servings into individual resealable plastic bags. If someone wants chips, then he or she can have a single serving and not be munching out of a big bag.

Freeze Your Water
suggested, in part by, Andrea Walker

We often froze water bottles when we travelled in the past and used them for refrigeration and to drink. I've modified this a bit because certain types of plastics aren't meant to be frozen and they can actually affect the water you are drinking. I've found recyclable water bottles that can be filled, frozen, thawed, placed in the dishwasher and then used again. I definitely prefer to use this method. But, If you want to freeze your favorite brand of bottled water, be sure to check with the company that produces it to make sure the bottles are safe to freeze.

Bring Two Ice Chests

It's always ideal to have two ice chests when you are traveling. Use one for beverages and one for food. Because you will be opening the beverage one more frequently, this will keep the food in the other ice chest colder much longer. Also, rather than having loose ice in either chest, use freezer packs or keep the ice cubes in resealable plastic bags. That will help avoid the spread of germs from dirty hands or leaking foods.

Bring First Aid And Basic Medical Care
suggested, in part, by Susan Cotton

You never know what may happen on a trip, so always have a first aid kit handy and basic medical care items like headache medicine, tweezers or nail clippers.

Bring Towels For Clean Up

A terrific way to keep things clean is to put a few kitchen towels in a resealable bag with water and detergent as well as dry towels in a separate bag. That way, you are ready for a quick clean up, you aren't using those chemicals in packaged towelettes, and the towels are reusable.

Bring Paper Products As Backups

Some rest stops don't always have things as well stocked as they should be. As a result, it's never a bad idea to have some additional paper products, from paper towels to bathroom tissue, as a back up.

Bring Table Coverings For Rest Areas

The tables at some of the rest stops you might encounter may not be the nicest or cleanest. So, it's a good idea to bring along a plastic covering and an old tablecloth, if you have one that's a bit too worn, for the dining table. You can get plastic rolls that would be normally used as drop cloths for painting at your home center store. They are very inexpensive.

Enjoy Books On DVD (and on your smart phone or MP3 player)
suggested, in part, by Steve Knox

Fun activities in the car make the time go buy much more quickly and pleasurably. An audio book that everyone can enjoy (and even talk about) is an easy option. There are many available for purchase these days as well as options in digital format that can be downloaded to a smart phone and played on the car stereo system as well.

Play Games With Your Music Library
suggested, in part, by Patty Strahan

You can also use your smart phone or MP3 player for a little interactive fun as well. On a trip a few summers ago to an amusement park with friends, we played our version of "name that tune" by going though my rather eclectic selection of music. Encourage everyone to bring different types of music and you'll have hours of fun.

Use Your Smart Phones For Local Information
suggested, in part, by Tina Edwards

You can also use your smart phone for all kinds of useful information. If it's equipped with GPS, the phone can help you with directions. You can also find local dining and shopping suggestions that are off the "tourist path" as well.

Make Sure Your Car Is Ready For The Trip

Check all the basics on your car and be sure you are reay for the unexpected. Be sure all the fluids are full. Be sure your spare in full of air. Be sure you have roadside emergency equipment and jumper cables.

Be Eco Friendly Whenever Possible

Try not to leave too much behind on your trip. Try to recycle whenever possible to minimize your carbon footprint while traveling around enjoying this great country of ours. Using things like your table cloths from home, recyclable water bottles, your own soapy dishtowels are small things but they add up.

RECIPES

Smoked Chicken and Roasted Red Pepper Roll-Ups

Ingredients

8 Slices Multi Grain Bread
4 oz Spreadable Cream Cheese
1/2 lb Smoked Chicken, thinly sliced
8-12 Basil Leaves
1/2 cu Roasted Red Peppers, drained and patted dry
8 wax paper sheets about 10" x 6"

Method

Slice the crusts off the ends of the bread slices. With a rolling pin, flatten each slice. Spread about 1 tablespoon of cream cheese on each slice. Top each slice with an equal portion of chicken, basil leaves and red peppers. Leave about an inch of one short end clear of ingredients. Starting on the opposite short end, roll the bread around the ingredients. Place on a small sheet of wax paper and roll paper around it. Twist the ends of the paper to seal. Refrigerate until ready to eat.

Peanut butter Cereal Bars

Ingredients

2 Cups Toasted Oat Cereal (like Cheerios)
1 Cup Rolled Oats
½ cu Shredded Coconut
1/4 cu Golden Raisins
1/4 cu Dried Cranberries
1/2 cu Granulated Sugar
1 tsp Cinnamon
1/2 cu Honey
1/2 cu Creamy Peanut Butter

Method

Line the bottom and two sides of an 8" square baking pan with parchment paper and set aside.

In a medium sized bowl, combine cereal, oats, coconut, raisins and cranberries. Set a side.

Combine sugar, honey and cinnamon in a large saucepan over medium high heat and bring to a rolling boil. Continue to boil for 1 minute. Remove from heat and stir in peanut butter until well combined. Add dry ingredients to the saucepan and stir to combine. Transfer mixture to the baking pan. Spread out ingredients and press into sides and corners with the back of a wooden spoon. Allow mixture to cool.

Remove hardened mixture from baking pan and slice into 16 bars (or more if you choose). Bars can be wrapped individually or stored in airtight container.

Thanks again to Shelia and all my facebook friends for their ideas.

If you have any questions or comments, please send me an email at wayne@waynesweekend.com or follow me on facebook.