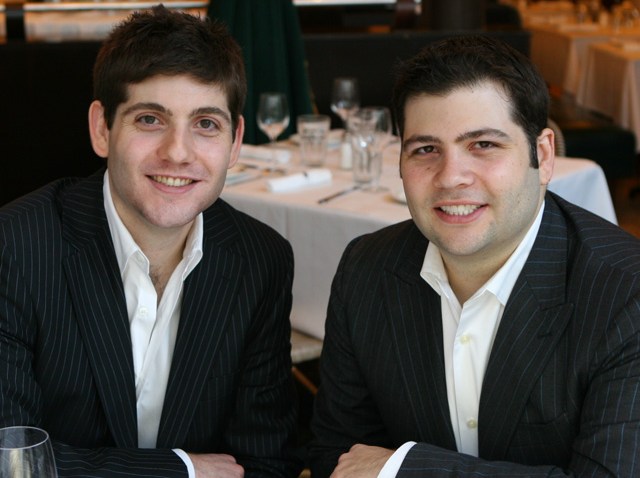 If your father was one of the top dogs in his industry, a lot of kids would opt to do something else with their career. Less pressure.
But just like the Jordan kids decided to play ball and Christie followed Hugh, R.J. and Jerrod Melman have dared to tread the same hallowed restaurant ground their father, Rich Melman (founder of Lettuce Entertain You Enterprises), has laid out.
It looks like they've been paying attention, launching a white-hot see-and-be seen restaurant in River North (Hub 51) in 2008, and venturing into Cali by opening La Grande Orange in Santa Monica a few months ago. R.J. and Jerrod, 30- and 27-years-old respectively, appear to be thriving in their father's very large shadow.

Was there ever any doubt you'd enter the family business?
RJ: For sure there was doubt. The restaurant business was never forced upon us. In high school I would have said I would be going to law school and potentially into politics. It was in college where my passion for food and the food business came about. My dad taught me that this business is too tough if you don't love it. If you love what you do, hard work becomes easy.
Jerrod: I'm not sure doubt is the right word, but I wasn't always certain I would go into the restaurant business. I always worked for my dad during high school and college on summer vacation and on weekends, but viewed it as a job not a career. I kind of saw it as his thing, and thought I would find my own thing. As I neared the end of college I realized it was the only thing I had ever done that I really enjoyed, and it would be foolish not to take advantage of the chance to learn the business from him, so two weeks after I graduated college I entered Lettuce's management training program and haven't looked back.

Is there much difference in running a restaurant in California and running one here?
RJ: Both places are challenges. Chicago has more pressure perhaps because we live here, and our dad lives here. Californians are very laid back, have different eating habits and working habits, so culturally there are some challenges. Everyone in LA, it seems, is trying to get into the movie business -- which isn't the case here in Chicago. Both places are a lot of fun, but Santa Monica is certainly more laid back than Chicago.
Jerrod: There are certain behind the scenes differences between running restaurants here and in LA, but at its heart, it's the same. Figuring out what people like and dislike, and doing everything you can to please the guest and hope they return.

L.A. girls or Chicago girls? Why?
RJ: Both? There are great people in both cities. Maybe Midwest girls who have moved to LA?
Jerrod: Chicago girls all the way, less drama. An L.A. tan doesn't hurt though. This coming from one of the least tan people on earth.

You're surrounded by hotties all the time at work. Seems like you'd be a prime target for the gold-digger types.
Jerrod: We're both single, but I hope we have enough awareness to see who's here for us. We have a great group of friends. I don't think girls even really know who we are when we are here.
RJ: It's not like we have a lot of money anyway. We can comp their nachos, that's about the extent of it.

Brothers fight. Can you recall any fierce dustups between you?
Jerrod: He always kinda pounded on me, but I remember a fight we had in Arizona during Spring Break. Fifteen minutes in the swimming pool and it was the first time I got the better of it. He was hurting too.
RJ: He has a longer reach. If i can get him on the ground and pin him it would be close ... We certainly disagree, but our disagreements have lead to some of our best decisions. It's more fun to win as brothers than compete against each other.

Maybe you could compete in a tag-team match against some other restaurateurs, say the Rockit Ranch boys?
RJ: No way. That guy (Billy Dec) is all muscle.