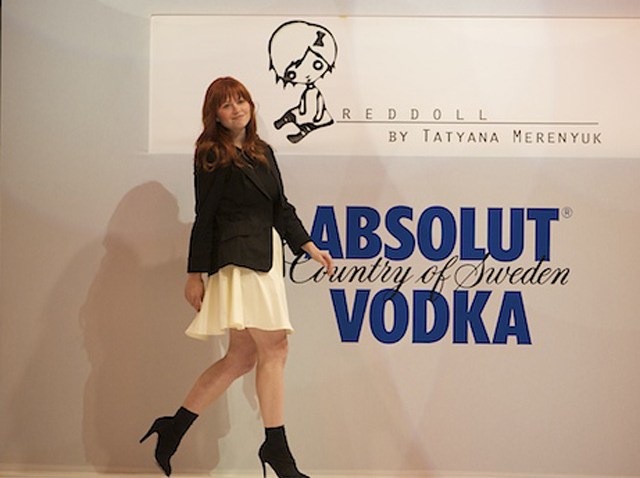 Ukranian-born designer Tatyana Merenyuk created Red Doll, a clothing line filled with whimsical, flirty pieces inspired from her childhood days playing dress up. She recently debuted her new collection on the runway at Gen Art's Fresh Faces in Fashion Show.

Tell us about your inspiration for your line, Red Doll, and the pieces from this season?
Many things inspire me whenever I get to work, but especially the fabrics that I use and the colors of the fabric. Then things just start to create themselves, it could start off as a mistake but then turn into a flower.

So anything special about your pieces?
My designs are classic, feminine, and special in some way, whether it be the color of the fabric, a special pleating, or twist in fabric. I always like to add a little bow or unique gathering. I try to experiment.

How'd you get in this biz, anyway?
It's actually quite funny, I always did a little sewing here and there but never seriously. Then I met my now boyfriend and he suggested that I start sewing clothing and actually taught me a few things on the sewing machine. I started to go crazy for the sewing machine.

What's your average day-to-day like?
Well, right now I wake up around 8 a.m., take my dog out, and have a cup of tea with jam and toast, answer some emails, and get to work sewing till about 9 p.m. Sometimes longer. Lots and lots of Fun!

What's your fave thing to do here?
I love to eat in Chicago! SO many good foods! I love Kumas Corner (really good burgers) and I love the French restaurant in Wicker Park Le Bouchon. They have the best mussels around.

What can you be caught doing when you're not behind a sewing machine?
Probably watching a movie. I love to do that, it really relaxes me.

Where can we find your goods?
Most of my items are custom made to order that you can order online, or you can buy sale items and other custom pieces on etsy.com. But if you are interested in anything you can just email me and I can talk to you about what is available, colors,fabric, ect... That is my favorite, I love working with the client!