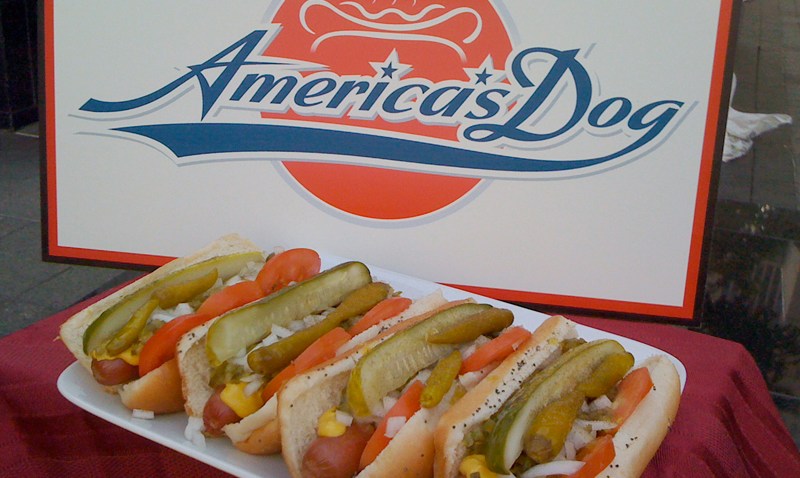 America has quite a passion for hot dogs.
Whether we're at a ballpark, barbequing or ordering from a neighborhood stand, we all have a very specific way we like our dog prepared. And, depending on where we live, the definition of the "classic dog" can be quite different from city to city.
I've always been a big fan of the traditional Chicago dog, complete with that glow in the dark bright green relish. But, I asked my friends on facebook how they like their dog and I received a huge response, each different from almost everyone else who offered up a version.

This week, I was fortunate to have Manolis Alpogianis, owner of America's Dog in Chicago, join me and share the results of his search for this country's favorite dogs. He and his brother traveled across the United States in 1993 and sampled hot dogs from cites north to south and coast-to-coast.
America's Dog now features quite a variety of city favorites, from the New York Dog with sauerkraut and brown mustard, to the Atlanta Dog with coleslaw, chili, mustard, ketchup and onions. I tried my hand at creating a few styles with Manolis, including "The Santa Fe", "The Tucson" and my "Chicago Style" favorite. I thought I'd share the ingredients with you so you can sample them for yourself.

The Chicago Dog
Hot Dog topped with mustard, relish, onion, sport pepper, tomato, pickle and celery salt

The Santa Fe
A jalapeno dog with green salsa and diced onion

The Tucson
Hot dog topped with chorizo, jalapenos, melted cheese and sprinkled with crispy tortilla strips

Thanks to Manolis for sharing the results of his "Great American Road Trip: Hot Dog Style.". For more information about America's Dog, check out their website at www.americasdog.com.

ULTIMATE PICNIC CONTEST

I also wanted to remind you that I'm going to be judging the Rutherford Hill Wines' Ultimate Ravinia Picnic Photo Contest again this year. The contest runs all summer long through August 22. All you have to do to enter is create a picnic at Ravinia and photograph it. We'll be reviewing the photos and selecting a winner on September 4. For more information, check out their website at raviniawines.com.

I'll be at Ravinia this Saturday night, June 28 to enjoy a performance by Diana Krall. Stop by and say hello! I'll give you tips on setting up a great picnic.

If you have any questions or comments, please send me an email at wayne@waynesweekend.com.