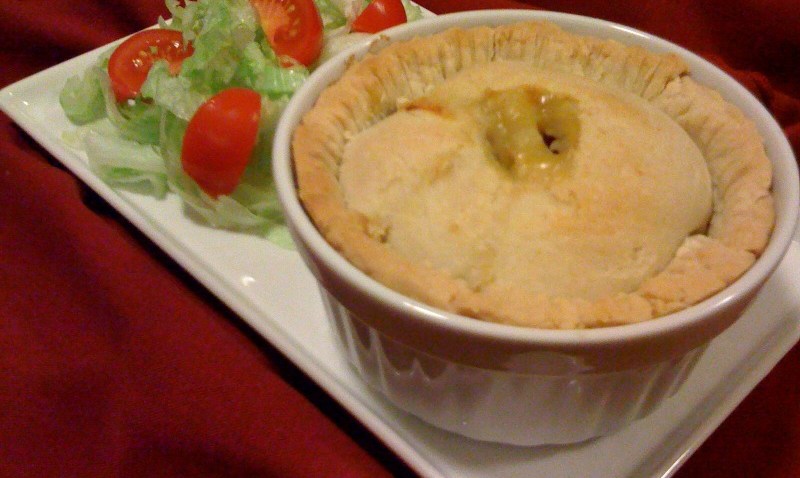 I continue to look for ways to hep folks spend less in the grocery store and get more for their money. This week, I took advantage of bargains at my local store and created a comfort food dinner for four with a budget of only $10. By spending a little extra time comparing prices and looking for deals, you'd be surprised how much you can save. For this recipe, I've included the cost of each item as a reference. Salt, pepper and oil for cooking are not included in the $10 total because those are staples that should be in everyone's pantry.

Chicken Pot Pie & Salad For Four, Under $10

Ingredients (Total Cost $9.92)

2 cups, plus 2 tbl Flour ($.29)
3/4 cu Butter, cut into small cubes, plus 1 tablespoon ($1.21)
1 lb Boneless Skinless Chicken Thighs, fat trimmed and chopped ($3.49)
1 lg Carrot, split and sliced ($.10)
1 med Onion, chopped ($.42)
1 clove Garlic, minced ($.04)
1 lb Red Potatoes, washed and cut into small cubes (skin on) ($.99)
Water
2 Bouillon Cubes ($.17)
1 can Creamed Corn, 15oz size ($.59)
1 head Iceberg Lettuce, washed and torn into bite sized pieces ($1.49)
3 Plum Tomatoes, sliced or chopped ($.56)
4 oz Commercial Salad Dressing ($.57)
4 Large Ramekins (5" in diameter and 2" deep)
Method

Put 1 tablespoon of butter in a small bowl and set aside. Put 1 tablespoon of the chopped onion in a small bowl and set aside as well. Lastly, put 2 tablespoons of flour into a small bowl and set aside as well. Cut remaining butter into the remaining 2 cups of flour. Add 2 tablespoons of water and mix until it forms into a ball. Divide into four equal portions. Roll each into a ball and then flatten. Wrap each in plastic and refrigerate for only 30 minutes.

Meanwhile, put 2 tablespoons of olive oil in a saucepan over high heat. Add chicken and sauté until chicken is opaque, about 2 minutes. Add onions, carrots and garlic and continue to sauté for an additional 2 minutes. Add 1 cup of water and the bouillon cubes and break the bouillon up with the back of a wooden spoon. Add potatoes and reduce heat to medium. Continue to sauté ingredients for an additional 8 minutes until potatoes become tender. Sprinkle 2 tablespoons of flour into mixture and continue to saute until sauce thickens, about 2 minutes. Add corn and mix in thoroughly. Remove from heat and allow ingredients to cool. Season to taste with salt and pepper if desired.

Preheat oven to 350 degrees. Divide ingredients into the four ramekins. Remove pastry from refrigerator and roll each out on a board to about a 7" circle. Place each piece of pasty over a ramekin and tuck the excess into the inside edge of the ramekin to form a crust. You can use a fork to create a ridge by pressing it into the dough all around the edge. Using a sharp knife, cut a hole in the center of the pie to release steam while potpies are baking. Melt the reserved 1 tablespoon of butter and brush it over the tops of the crusts. Place ramekins on a cooking sheet and bake them for 35 – 40 minutes or until crusts are golden brown.

Meanwhile, finely mince the remaining tablespoon of onion. Mix it with four servings of a commercial salad dressing of your choice (I purchased a 14oz bottle for $2.00 and used 1/4 cup for my salad). Place lettuce and tomatoes in a large bowl. Toss with dressing and season with salt and pepper. Serve potpies and salads together.

I get a number of online comments each week on my segments. I'd like to thank my facebook friends Laura McCarley, Azi Najafi, Ginnie Grant and Mary Guzzardo-Cunningham for their ideas and suggestions for this $10 challenge. Nice ideas, ladies!

If you have any questions or comment, please send me an email at wayne@waynesweekend.com. You can also follow me on facebook or twitter.